'Exploitation': Clothing labels accused of Cambodia worker discrimination, child labor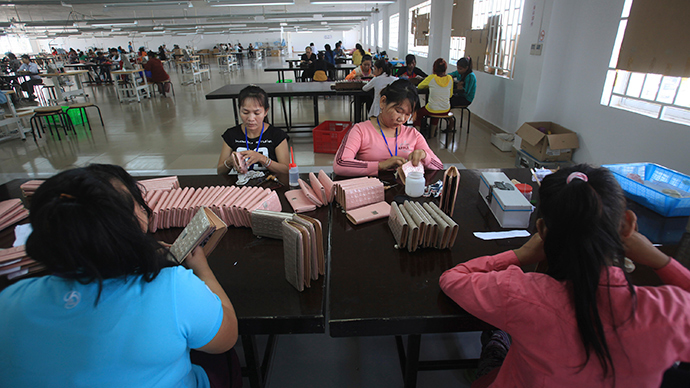 Human Rights Watch has lashed out at European retail giants over "discriminatory labor conditions" in Cambodian factories, most of which exploit young women. HRW claimed in its report that one of the retailers, H&M, uses child labor.
The Human Rights Watch 140-page report is based on interviews with 270 workers from 73 factories, as well as international apparel brand representatives. Of some 200 apparel brands that source from Cambodia, Human Rights Watch said it was in contact with Adidas, Armani, Gap, H&M, Joe Fresh, and Marks and Spencer.
In one of the factories, which produces clothes for H&M, workers owned up they had been made to work on their days off "to help meet production targets." They worked on H&M garments without overtime pay, however.

They also told Human Rights Watch that the factory employed some children below the legally-permissible age of 15, and that those kids were made to work as hard as the adults.

"Some of the worst employment-related crimes happen at the larger factories' smaller suppliers. The reason is that nobody really investigates them," senior women's rights researcher at Human Rights Watch, Aruna Kashyap, told Swedish broadcaster SVT.

HRW says workers in Cambodia's garment factories, producing name-brand clothing sold in the US, Canada and Europe, often come to grips with "discriminatory and exploitative labor conditions."
According to HRW, the combination of short-term contracts which make it easier to get rid of workers at any moment, poor government labor inspection and enforcement, as well as aggressive tactics against independent unions make it extremely difficult for workers to assert their rights.

Meanwhile, according to the Cambodian Ministry of Industry and Handicraft, women make up 90 percent of the country's more than 700,000 garment workers in 1,200 garment businesses. Pregnancy-related discrimination and sexual harassment at the workplace are the two key concerns for women employees, according to HRW. Cambodia's Labor Law prohibits sexual harassment, but doesn't even bother to define it.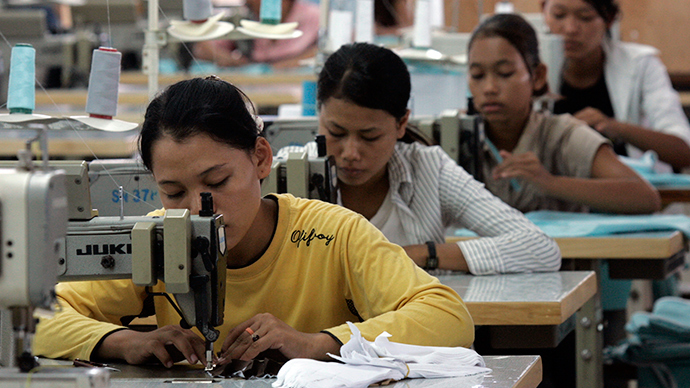 Human Rights Watch spoke to workers at a factory which produced for Gap. The factory allegedly discriminated against pregnant workers in hiring. Workers reported that women who gave birth did not receive maternity pay even when they had worked at the factory for over a year. The workers described seeing a fellow worker dismissed for refusing overtime work. Even though the factory employed more than 300 workers, there was no infirmary or nurse in the factory. They also said the managers of the factory had taken a "hostile approach to unions," so workers were scared of even forming a union or openly organizing within factory premises.

The report said many international clothing brands had failed to promote workers' rights because of poor supply chain transparency, the absence of protection for whistleblowers and a failure to help factories correct problems.
READ MORE: Cambodian protesters killed as police crack down on garment workers' rally (PHOTOS)

"These global apparel brands are household names," Kashyap said. "They have a lot of leverage, and can and should do more to ensure their contracts with garment factories are not contributing to labor rights abuses."

Workers from the factory producing for Marks and Spencer told HRW that factory managers allegedly fired those who raised concerns about working conditions. Issues raised by workers interviewed by the group included discrimination against pregnant workers, lack of sick leave, forced overtime and threats against unionizing.

Although under international law the Cambodian government has obligations to ensure that the rights of workers are respected, local labor inspectorate has been "wholly ineffectual and the subject of numerous corruption allegations," HRW says.

Garment and textile exports are quintessential for the Cambodian economy. In 2013, Cambodian global exports amounted to $6.48 billion, of which garment and textile exports accounted for $4.96 billion.
You can share this story on social media: