Soyuz carrying Russian-US crew from ISS lands in Kazakhstan (PHOTOS)
The Soyuz TMA-14M spacecraft carrying Russian cosmonauts Alexander Samokutyaev and Elena Serova (Roscosmos) and US astronaut Barry Wilmore (NASA) successfully landed in Kazakhstan after departing from the International Space Station (ISS) on Wednesday.
The crew landed shortly after 05:00 Moscow time (02:00 GMT). The spacecraft "landed in the planned area, about 146 kilometers southeast of the city of Zhezkazgan," the Mission Control Center said, adding that "the crew is feeling good."
Экипаж МКС-41/42 благополучно вернулся на Землю: http://t.co/NscUenB42Spic.twitter.com/LzEIoWZ4qf

— РОСКОСМОС (@fka_roscosmos) March 12, 2015
Serova was the first Russian female cosmonaut to work aboard a space station in 20 years. The landing of the Soyuz craft was broadcast live by Roscosmos and NASA, with viewers reporting on each stage of the crew's journey to Earth on Twitter.
The Soyuz spacecraft coming in for a safe landing with #AstroButch Sasha & Elena inside. Photo: NASA/Bill Ingalls pic.twitter.com/sdDALYIwa1

— Intl. Space Station (@Space_Station) March 12, 2015
There was some excitement during the unloading of the crew from the capsule, which took about 20 minutes, but the astronauts emerged in good health – including the smiling and waving Serova, who was brought out last.
Samokutyaev told journalists immediately after landing that the trip was fine, and that he believes he had a rougher Soyuz landing previously. "Everything is fine. I am drinking real tea with lemon," he said, smiling.
Welcome back Elena, Sasha, and #AstroButch. Congratulations for a successful mission. Photo: NASA/Bill Ingalls pic.twitter.com/sLnsEvAEZI

— Intl. Space Station (@Space_Station) March 12, 2015
"Everything is great, thank you. The guys are great and worked very well," Serova said as one of the doctors was checking her pulse and blood pressure.
Wilmore spoke in Russian after landing, saying: "I am glad to be here."
The three crew members have worked on the ISS for around 170 days.
Another three members of the crew remained aboard the station, which is located 260 miles (418 km) above Earth. Mission commander Terry Virts (NASA) along with Anton Shkaplerov (Roscosmos) and Samatha Cristoforetti (ESA) are due to return in mid-May, while astronaut Mark Kelly and cosmonaut Mikhail Kornienko are due to launch on March 27 and spend a full year aboard the ISS.
#SoyuzTMA14M flies free of #ISS with #Exp42 crew pic.twitter.com/kMOtME1u2u

— Anatoly Zak (@RussianSpaceWeb) March 11, 2015
Currently, all manned missions to the ISS are launched from Baikonur Cosmodrome in Kazakhstan, using Soyuz spacecraft originally designed in the 1960s for the Soviet lunar program. At least one Soyuz is docked to the ISS at all times, for use as an escape craft in the event of an emergency.
And a wave from #astrobutch#exp42 now wrapped up snug after #Soyuz landing pic.twitter.com/hBniox6dUI

— ESA (@esa) March 12, 2015
The Soyuz rocket is the most frequently used and most reliable space launch vehicle in the world to date. Soyuz TMA-M, in service today, is the fourth generation of the spacecraft. A new and final version of the system is planned to enter service in 2016.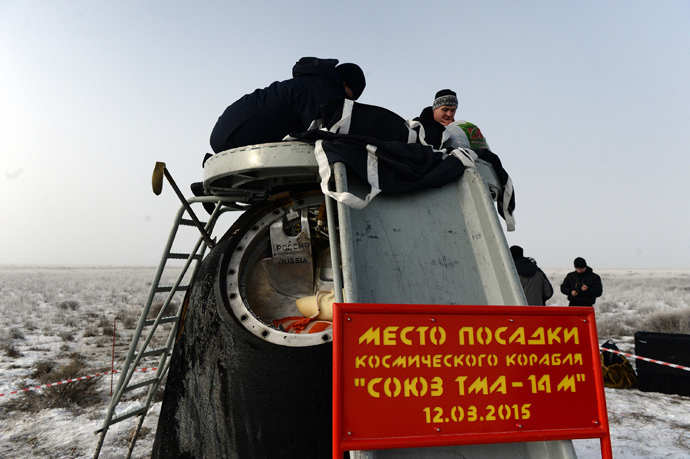 A successor to Soyuz, the 'Prospective Piloted Transport System' (PPTS) is in development by the Russian space agency Roscosmos.
#Exp42 undocks at 6:44pm ET from Poisk module w/#AstroButch. Headed for 10:07pm landing in snowy Kazakhstan. pic.twitter.com/EeN67DXOco

— Intl. Space Station (@Space_Station) March 11, 2015
Amazing!! "@nasahqphoto: Another view of the #Soyuz under parachute. https://t.co/BieKZEZVCP#NASA#ISS#ISSCrewpic.twitter.com/FvANTFsBob"

— Brian Collins (@Btcolli1) March 12, 2015