'Target practice': Hitler bombed thousands of Germans to test V-2 rockets, secret archive reveals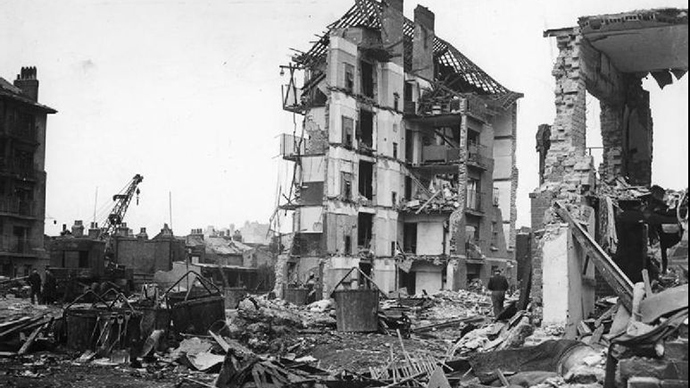 During WWII Nazi leader Adolf Hitler bombed thousands of Germans with V-2 rockets to test their force, putting the blame for the damage on Allied Forces, according to a highly classified archive kept secret for decades by a German collector.
The top secret SS documents, revealing how Hitler used German citizens as live targets for bombing practice – before attacking Britain and continental Europe in the last years of WWII – are to be sold off by a London auction house on March 18, The Daily Mail reports.
Documents reveal how the Nazis bombed thousands of Germans for TARGET PRACTICE http://t.co/7OP3xOPlnTpic.twitter.com/ZIzksxrp2x

— Daily Mail Online (@MailOnline) March 11, 2015
The archive, much of which is written in coded German, is believed to provide evidence that ballistic missiles V-2 (the V standing for Vergeltungswaffe, or Vengeance Weapon) were tested in towns and cities in Pomerania – before they were fired against London, Antwerp and Liege, killing over 7,000 Allied civilians.
READ MORE:'Anti-Hitler' Mein Kampf? Germany to republish Nazi leader's manifesto after 70 years
The documents were issued by a secret unit, Kommandostelle S, to report the scale of devastation. The A4 papers were rescued from being burned to ashes at the last days of the war. For nearly 70 years, the papers were kept by a German collector, but now they are expected to be sold at Chiswick Auctions in London for £2,500 ($3,700).
"The V-2 was the first truly ballistic missile which might have brought victory to Hitler had he won the race to develop the atomic bomb in 1945," Chiswick Auctions spokesman Richard Westwood-Brookes told the Daily Mail. "A note which comes with the archive from a researcher indicates that these were final test firing reports for the rockets and were issued in very limited numbers of no more than 10 to 12 copies."
READ MORE:Greece threatens to seize German property, Berlin refuses to pay WWII reparations
"The present archive could prove to be a highly important new source of information on what was by far the most important technological and scientific development to have come from the Second World War," Westwood-Brookes said. "This is evidence enough of how desperate the Nazis were becoming after D-Day and the relentless advances of Allied Forces across Europe."
It took 15 mins for a V-1 buzz bomb to reach London from Nazi Occupied Europe. A V-2 could do it in less than 5. pic.twitter.com/VSpRFIUrIl

— Military History Now (@MilHistNow) March 4, 2015
The world's first long-range guided ballistic missile, the V-2 rocket was developed by German aerospace engineer Wernher von Braun, who worked for US space agency NASA after the war was over. The 14-meter rockets were the most advanced weapon used in the war, and many experts believe they could have even turned the tide of the war in Hitler's favor if it had been developed sooner.
You can share this story on social media: