France to keep 10,000 troops on streets as terror threat remains high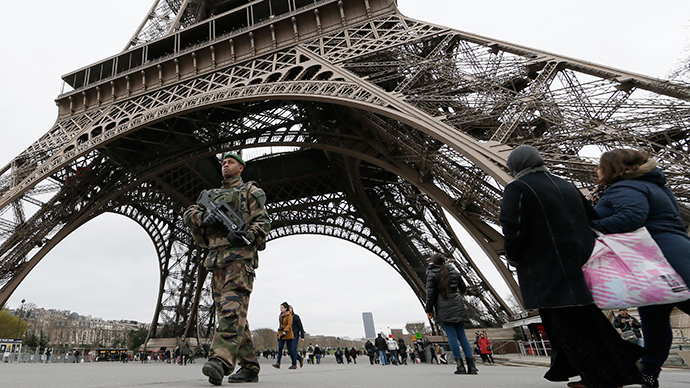 As the threat of attacks by Islamist extremists remains high in France, President Francois Hollande has decided to continue the deployment of 10,000 troops on the streets across the country.
"The threat of terrorist attack against our country remains high. The head of state has decided to maintain the level of the army on the national territory at 10,000 troops in support of security forces from the Interior Ministry," Hollande's office said in a statement after a meeting of senior ministers, AFP reported.
A total of 7,000 troops will be monitoring and protecting religious buildings that are "particularly threatened," the statement added.
READ MORE: French PM predicts 10,000 Europeans to join ISIS before 2015 ends
Among other sites that are being patrolled by the troops are stations, media buildings and various other possible targets for terrorists.
The move comes almost two months after deadly attacks on the Charlie Hebdo magazine's headquarters and a kosher shop in Paris left 17 people dead.
Among the counter-terrorism measures, French authorities announced last week that they would double Islamic courses at universities to raise awareness about the threat of radical Islamism, and to avoid French imams being financed by foreign sources.
At the end of February, passports of six French nationals were seized after the group had been planning a trip to Syria – the hotbed of Islamic State (IS) extremists.
Just over a month ago, IS vowed more attacks on France, and urged French Muslims to join their "caliphate," in a video that emerged online.
You can share this story on social media: