​Sweden ends arms deal with Saudi Arabia after human rights standoff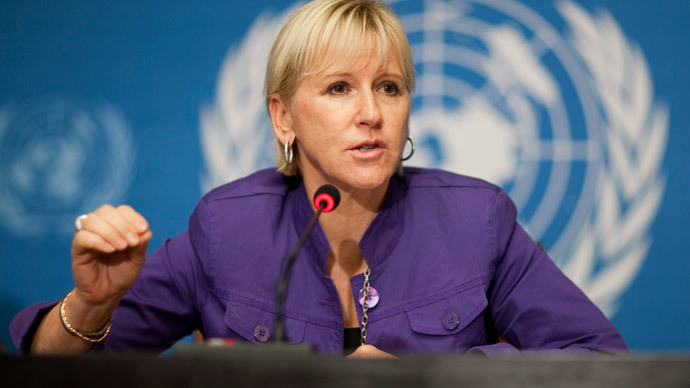 Sweden will cancel its arms deal with Saudi Arabia, Prime Minister Stefan Lofven has confirmed. The decision comes after the ultraconservative kingdom blocked the Swedish foreign minister's speech on human rights at an Arab League meeting.
"It is true that it will be ended. The Minister of Defense will talk more about this later tonight," Lofven told reporters during an official visit to Kiev.
The controversial trade agreement, which included the export of military arms to Saudi Arabia – Sweden's fourth biggest export market for arms outside the EU – was up for renewal this year.
Earlier on Tuesday, Arab foreign ministers defended Saudi Arabia's human rights record and criticized Swedish Foreign Minister Margot Wallstrom's comments in which she accused the kingdom of blocking her speech at the Arab League meeting in Cairo. Wallstrom had been invited to the meeting as a guest of honor, as a nod to her country's recognition of Palestine last autumn.
The intended speech at the mtg of League of Arab States in Cairo today. NOT to check against delivery... http://t.co/Nr4cZWk2Cz

— Margot Wallström (@margotwallstrom) March 9, 2015
"The ministers have voiced their condemnation and astonishment at the issuance of such statements that are incompatible with the fact that the Constitution of the Kingdom of Saudi Arabia is based on Sharia," the ministers said in a statement, according to Swedish media.
"Sharia has guaranteed human rights and preserved people's lives, possessions, honor and dignity. The ministers consider the comments as irresponsible and unacceptable," the statement added.
Wallstrom accused Riyadh on Monday of "reacting strongly" to Sweden's position on human rights issues.
"The explanation we have been given is that Sweden has highlighted the situation for democracy and human rights, and that is why they do not want me to speak," she told TT news agency in Cairo. "It's a shame that a country has blocked my participation."
Wallstrom's canceled speech, published on the Swedish Foreign Ministry's website, touched on the issues of women's and human rights, as well as the importance of recognizing Palestinian statehood. The speech did not explicitly mention Saudi Arabia, but rather highlighted the ties between Sweden and the Middle East, urging for continued cooperation.
Meanwhile, Prime Minister Lofven refuted speculations that the move to cancel the deal was in response to the diplomatic standoff. "This has been agreed for some time now. It has nothing to do with what has happened in recent days," he said, according to Swedish Radio.
The trade agreement, first signed in 2005, was renewed by the previous center-left government five years ago. The accord netted Swedish firms over $560 billion between 2011 and 2014.
Last Friday, Wallstrom voiced her support for the accord, saying: "We have a very extensive trade with Saudi Arabia and economic ties and opportunities we all are anxious to retain."
You can share this story on social media: