British MPs say US-EU free trade deal must not leave govts at multinationals' mercy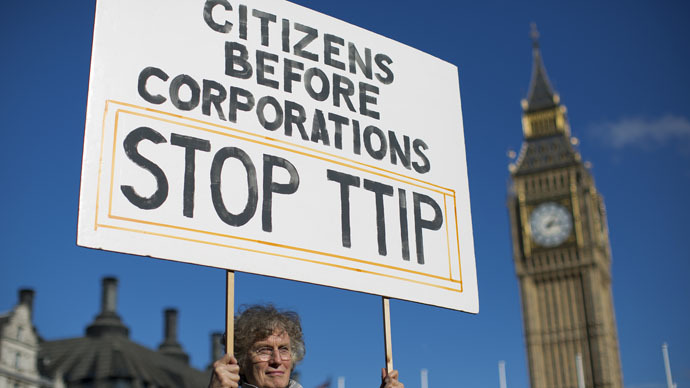 British MPs are protesting the US-EU TTIP free trade deal that could enable multinational corporations to sue governments if newly introduced rules harm their businesses, thus weakening essential European health and food regulations.
With the help of the Transatlantic Trade and Investment Partnership (TTIP), transnational corporations could impose lax US regulation on EU countries regarding genetically modified crops, use of chemicals in cosmetics and treatment of meat cattle with growth hormones.
The TTIP will also complicate strengthening EU's environmental and animal welfare regulations, the British parliament's Environmental Audit Committee (EAC) warns.
This is another reason why we don't want #TTIP in UK. pic.twitter.com/elFgO9thjP

— Cllr John Perry (@John_Perry_UK) March 7, 2015
In its current form, the TTIP contains an investor-state dispute settlement (ISDS) that allows shareholders and companies to sue countries that "restrict their business practices."
"EU states must retain their 'right to regulate', but a TTIP treaty text that enshrines such a safeguard will be meaningless if the prospect of ISDS litigation produces a chilling effect on future regulation-setting," the committee said.
Committee chair Joan Walley, a Labour MP, was quoted by The Independent as saying: "Europe must retain its right to regulate. That needs to be embedded in any treaty text."
READ MORE: 'What part of no don't you understand?' TTIP critics target EU trade commissioner
The American companies, accustomed to operate in the less-regulated US business climate, are likely to benefit the most from the situation and sue European governments whenever they want to challenge rules they consider are hurting their profits.
This may result in a "race to the bottom" replacement of EU environmental safeguards with weaker US ones, leading to "the lowest common denominator," The Guardian said.
"Any dispute settlement provision must unambiguously deny US companies any opportunity to sue us when we look to introduce necessary environmental or public health safeguards," The Guardian cited Walley as saying.
Jamie Oliver speaks out #TTIP would NOT meet Higher Health & Welfare standards in UK & EU http://t.co/lC9jDl5Pxupic.twitter.com/Up6XKC1H38

— 8extremes (@8extremes) March 8, 2015
The Conservative-led UK government insists that TTIP will create jobs, open up new markets, boost business and eliminate red tape, but its critics disagree, saying that the treaty provides a way for companies to undermine hard-won workers' rights and environmental standards.
"The focus in TTIP has been on its potential for boosting transatlantic trade, but that must not be at the expense of throwing away hard-won environmental and public health protections," Walley warned.
British MPs also pointed out to the lack of transparency surrounding the TTIP negotiations, making it impossible to find out whether environmental risks have been taken into consideration at all.
READ MORE: Monsanto agrochemicals cause genetic damage in soybean workers – study
"What you are doing by including a mechanism like this in a treaty with the United States is you're increasing the possibilities for firms to challenge you, without actually gaining very much. Investor rights are already very well protected," Gabriel Siles-Brügge, of the University of Manchester, told The Guardian after giving testimony to the parliamentary committee.
A 2013 report prepared by the London School of Economics for the UK government's Department for Business, Innovation and Skills found that the ISDS's presence in the TTIP "is likely to have few or no benefits to the UK, while having meaningful economic and political costs."
Newly released UK govt grid on #TTIP shows how big business & civil society are squaring up: http://t.co/JjBeSVXaVypic.twitter.com/Ikse3fshJ9

— CEO (@corporateeurope) February 25, 2015
With evidence of the negative effect of the ISDS on the European economy camouflaged in the TTIP, "it is clear that corporations are willing to use the ISDS provision to sue nations for the laws they make," The Guardian wrote, recalling the ongoing case of tobacco giant Phillip Morris against the Australian government initiated via an ISDS in 2011.
You can share this story on social media: