French star athletes, TV crew among 10 dead in Argentina twin helicopter crash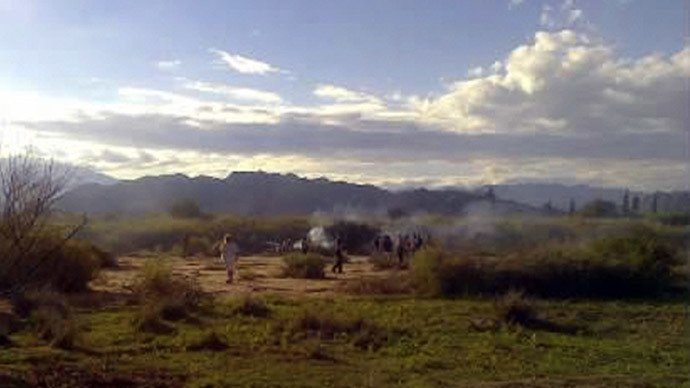 At least 10 people died when two helicopters crashed in a remote area in northwest Argentina during the filming of a survivalist TV show. French Olympic champions were among the cast that perished in the accident, Paris has confirmed.
The helicopters exploded while flying near Villa Castelli in La Rioja province after a possible collision, according to Argentinian Secretary of Security Cesar Angulo. Local officials identified the victims as eight French citizens and two Argentinian pilots.
French President Francois Hollande's office confirmed in a statement Tuesday that among those killed were Olympic gold medalist swimmer Camille Muffat, 25, Olympic boxer Alexis Vastine, 28, and sailor Florence Arthaud, 57.
The French nationals were cast members of the TV reality series 'Dropped,' which was to be broadcast on TF1 later in 2015.
Fotos del accidente de haces unas hora @C5N@infobae@gustsaldana@telefenoticiaspic.twitter.com/IHMgyDOS3N

— Maximiliano Dopazo (@JeagerDopazo) March 9, 2015
#BREAKING PIC 10 dead as two helicopters collide in La Rioja, Argentina. pic.twitter.com/Xv9Vmjj9rl@airlivenet

— Channel 1 World (@Channel1World) March 9, 2015
The identities of the victims have not yet been officially released. It is known that the cast included eight French athletes in total: swimmers Alain Bernad and Camille Muffat, boxer Alexis Vastine, cyclist Jeannie Longo, footballer Sylvain Wiltord, sailor Florence Arthaud, rider Anne-Flore Marxer, and skater Philippe Candeloro.
Wiltord and Bernard were confirmed to have not been aboard the helicopters at the time of the accident. Wiltord tweeted later on Monday: "I am sad for my friends, I tremble, I am horrified, I have no words."
Je suis triste pour mes amis , je tremble , je suis horrifié , je n'ai pas de mots , je ne veux rien dire #Tristesse#Pleurs#JesuisàParis

— Sylvain Wiltord (@sylwiltord) March 10, 2015
The plot of the show involved two teams being dropped off in two separate isolated locations. The goal was to beat their rivals in search for civilization. One of the helicopters reportedly belonged to the provincial government.
#AccidenteAereo FOTO de @LaRiojaGabriel del LV-CGK uno de los Helicópteros accidentado en #LaRioja ==> pic.twitter.com/7eIfcopHAS

— Daniel Omar Buiatti✈ (@PatoBuiatti) March 9, 2015
Authorities have begun an investigation into the cause of the crash. Weather conditions in the mountainous area where the accident took place were apparently good.