'It's her job': Indonesian clothing manufacturer under fire for sexist remark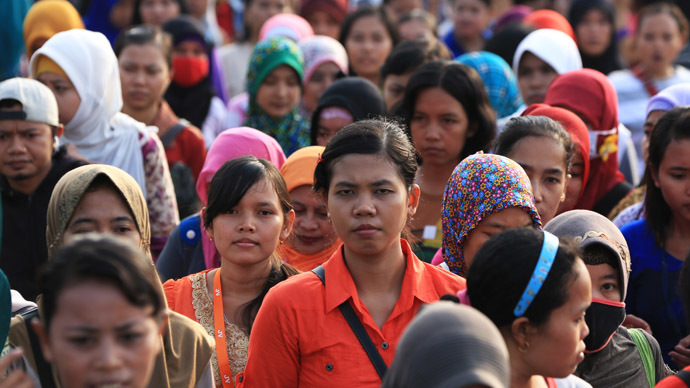 An Indonesian sports clothing company has issued an apology, after using sexist language on its clothing. "Washing instructions: Give this shirt to your woman. It's her job," was inscribed on the inside of an Indonesian football team's jerseys.
Dear @SALVO_ID , your tag is not funny. Domestic works are not woman's job only. Is this how you treat your mother? pic.twitter.com/QJMAWv9tEF

— Arum Ismartini (@ArumIsmartini) March 9, 2015
The message, intended as a 'compliment' to the domestic skills of women, backfired massively, with Salvo Sports, who made the football shirts for the Pusamania Borneo football team, coming in for a lot of criticism.
Shame on you @salvo_id for your stupid, humiliating and offending t-shirt. You should learn how to respect women!

— Endah Wulandari (@me_3nd4h) March 9, 2015
The company has tweeted a message saying, "The message is simply, instead of washing it in the wrong way, you might as well give it to a lady because they are more capable."
The response though was scathing. One user said Salvo sports "might want to look up what equality means before issuing any more apologies."
.@Salvo_ID might want to look up what equality means before issuing any more "apologies".

— BlackfishGirl (@BlackfishGirl) March 9, 2015
Some were aghast at the company's sexist views and how these could have been aired in public.
You guys need a PR consultant @SALVO_ID :)

— Ridhotya Warman (@ridhotya) March 9, 2015
You're getting more famous @SALVO_ID! Yeah famous for your stupidity and narrow mindedness . http://t.co/1tP7JCa23E"

— Wulan K. Wardhani (@csi_wulan) March 9, 2015
While others, like Mary Grace Kosta, called on sports teams to boycott the company, saying, "Girls and women play sports too!"
.@SALVO_ID Shame on your company for sexist washing labels. Sports teams should boycott you. Girls and women play sports too!

— Mary Grace Kosta (@marygkosta) March 8, 2015
If the label was the bad enough, the timing could not have been any worse for the sportswear maker, as it coincided with International Women's Day on March 8, which celebrates the rights of women around the globe.
Yesterday was #iwd, today its back to normal. "@veeola: A gentle reminder from @SALVO_ID jersey pic.twitter.com/OM0oE5cGns"

— Frau Sheep (@MarySheep) March 9, 2015
As part of a mammoth six-tweet apology, the sports company issued a series of tweets saying: "There is no intention to humiliate women. In contrast [we want to tell the men] learn from women how to take care of clothes," it said.
4. Tidak ada sama sekali maksud untuk merendahkan wanita. Justru sebaliknya, belajarlah merawat pakaian dari wanita krn mereka lebih telaten

— Salvo Sports Apparel (@SALVO_ID) March 8, 2015