NATO is using Ukraine crisis to advance towards Russian borders - Defense Ministry
NATO is using the situation in Ukraine to push closer to Russia's border, according to the Russian deputy defense minister. He says the Alliance's activities have expanded considerably over the past years.
In their push, Anatoly Antonov says Allied forces are ignoring diplomacy.
"We've noticed that NATO member states are using the situation in southeastern Ukraine as a pretext to discard all diplomatic conventions, tricks and slogans and push forward, closer to the Russian border."
According to the minister, what NATO is doing is completely out of proportion with what NATO commanders call the build-up of Russian forces on its side of the border in Ukraine. "NATO's activities are many times greater than Russia's."
However, he added they aren't a threat to Russia's security.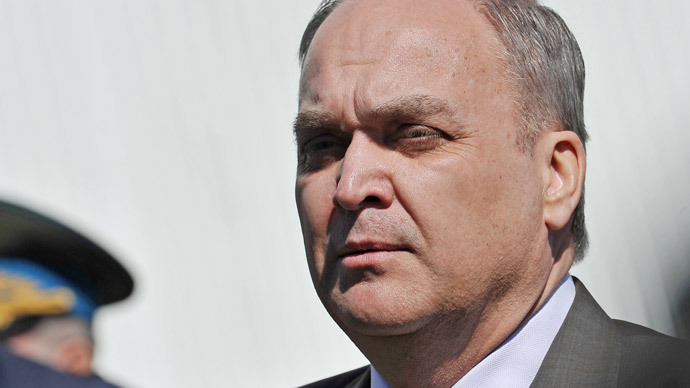 All of this is being done to restrain Russia and punish it for refusing to play along with rules set by the West, according to the official.
"Instead of uniting forces to fight evil, the worst of which is terrorism, Western nations are drawing new divisive lines, trying to realize containment schemes against unwelcome states. Today, Russia has been chosen as the target."
He added that NATO currently can't be considered the pillar of world freedom and security it is cracked up to be.
All this doesn't bode well for relations between the US and Russia, Antonov said.
"Throughout my military and diplomatic career, I haven't seen another period when Russian-American relations have been so difficult."

READ MORE: 6 NATO ships to stage war games in Black Sea
The activities he was referring to include massive wargames in Eastern Europe and naval exercises in the Black Sea. On Wednesday, warships from the US, Turkey, Italy, Canada and Romania started drills there.
Another example is the NATO military parade on February 24, held just 300 meters from the Russian border, in the Estonian town of Narva. About 140 pieces of armor and 10 times as many troops, including US soldiers, took part in that event.
Moscow saw it as a stab in its direction, but Estonia defended its right to host a parade, saying it can move military whichever way it likes on its territory - the same argument used by Russia when accused of military build-up along its borders.

READ MORE: US armor paraded 300m from Russian border (VIDEO)
The US is sending 600 paratroopers to Ukraine by the end of this week. US 173rd Airborne Brigade Commander Colonel Michael Foster announced this at the Center for Strategic and International Studies in Washington, DC on Monday.
The forces will stay there for six months, with the stated goal of training the Ukrainian National Guard. However, the operation could grow bigger.
"Initially, the plan is to go for six months," said Colonel Foster. "There have been discussions on how to increase both the duration of that event and the scope, the other things the US can assist with from a military perspective."
"We will be training what is essentially Ukraine's National Guard for a period of 6 months" -Col. Foster | #CSISLivehttp://t.co/i6ZouU6zjO

— CSIS (@CSIS) March 2, 2015
Russian Foreign Ministry spokesman, Aleksandr Lukashevich, said on Thursday that 300 American troops are already in Ukraine, training local servicemen near the city of Lvov.
The Ukrainian Defense ministry has denied Russia's claims of US military instructors already being in the country.
"We don't confirm this. It is the news from 12 years ago. Today it's a fake," the ministry's spokeswoman,Viktoria Kushnir, told the Interfax-Ukraine news agency.
The spokesman for a region Defense Ministry media-center in Lvov, Aleksandr Poronyuk, also said the information "doesn't correspond with reality."
When asked if the training program will be used to send lethal aid to Ukraine should the US decide to do so, Colonel Foster said a "secondary method" will be used for that.
The Russian Foreign Ministry criticized the US push to give lethal aid to Kiev especially "in light of the rather successful implementation of ceasefire agreements reached on February 12."
"Weapon supplies may cause not only the failure of the ceasefire and a new escalation of violence in the south east (of Ukraine), but also pose a threat to Russia's security," Lukashevich stressed.
You can share this story on social media: