Saudi Arabia execution rate 'truly unprecedented' - Amnesty Intl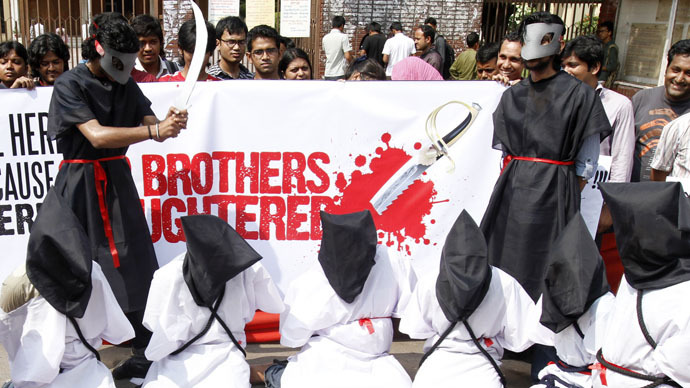 Amnesty International says there is no evidence the latest "alarming spike" in executions in Saudi Arabia is in any way related to the battle against terrorism in general or the Islamic State militant group in particular.
Three beheadings in a single day on Tuesday (one for rape and two for murder) raised the total so far this year to 38, about three times the number over the same period in 2014, according to an AFP tally.

READ MORE: 4 beheaded in Saudi Arabia less than a week into King Salman's rule

"It would... be a stretch to say that this is an attempt to deter violence," because almost half of this year's executions were for drug-related non-violent crimes, Amnesty's Saudi Arabia researcher Sevag Kechichian told the agency.

Just last week Saudi Arabia beheaded an Indian ax murderer (convicted of killing a Yemeni by striking him in the head with the ax) and a Pakistani heroin trafficker on the grounds that it is "committed to fighting drugs of all kinds due to the physical and social harm they cause."

Rape, murder, apostasy, armed robbery and drug trafficking are all punishable by death under Saudi Arabia's version of Islamic sharia law. The kingdom practices a strict version of Sunni Islam.

London-based Amnesty recorded 11 executions from January 1-26 last year, 17 for that period in 2013, and nine in 2012. After 27 executions in 2010, the number skyrocketed to around 80 annually, with a record 87 last year, according to AFP. The figures are among the world's highest.

Kechichian says that while one can hardly affirm what has been driving these staggering numbers, the current rate "has been truly unprecedented."

"The Saudi authorities want to show everyone they are strong, people can rely on them to keep the security and the safety in the kingdom," the source, who did not want to be identified, told AFP. The source added that while the primary objective is to clamp down on violence, the state's policy has been associated with the kingdom's fight against the Islamic State (IS, formerly ISIS).

In September, Saudi Arabia began airstrikes against the IS in Syria as part of the US-led coalition.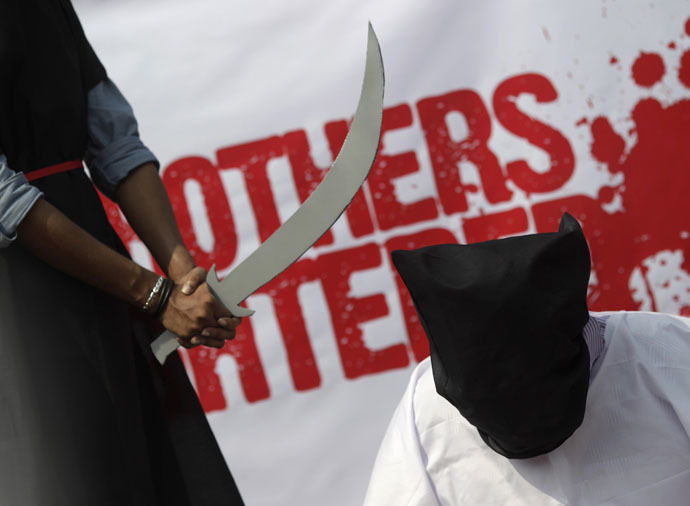 Three supporters of the IS in Saudi Arabia have been arrested for shooting and wounding a Danish citizen in November. They allegedly "perpetrated their crime in support of the terrorist group Daesh," ministry spokesman General Mansour al-Turki said in a statement.

In November, Saudi Arabia reportedly blamed IS-linked suspects for the killing of seven Shiites, children among them, in Eastern Province.

In January, three Saudi border guards died in a clash with Saudis, alleged to be "terrorists" trying to sneak in from Iraq.

While Amnesty is accusing the West of "double standards" towards the wealthy Gulf state, a diplomatic source has said "we need to work together" when asked whether countries which disagree with Saudi Arabia use of the death penalty should just stop dialogue with Riyadh about "terrorism" or economic issues on which they cooperate.

Amnesty has been working to end executions since 1977, when only nine countries had abolished the death penalty. Today, that number has gone up to 140 - nearly two-thirds of all countries.

Executions around the world rose sharply in 2013, Amnesty wrote in its report, saying they know of at least 778 people executed in 22 countries around the world in that year alone.

Five states continued to be ahead of all others in executing their prisoners, such as China thousands, exact numbers unknown); Iran (369 minimum); Iraq (169 minimum); Saudi Arabia (79 minimum) and the USA (39).

According to Amnesty, Iran, Iraq and Saudi Arabia accounted for nearly 80 percent of all reported executions around the world. Meanwhile governments like China and North Korea "hide how and when they use the death penalty; some states simply don't record information around executions and death sentences; others like Syria are in a state of conflict, so figures are unknown."
You can share this story on social media: