Rafferty's rules: Chaos reigned in Afghanistan throughout US occupation, HRW reports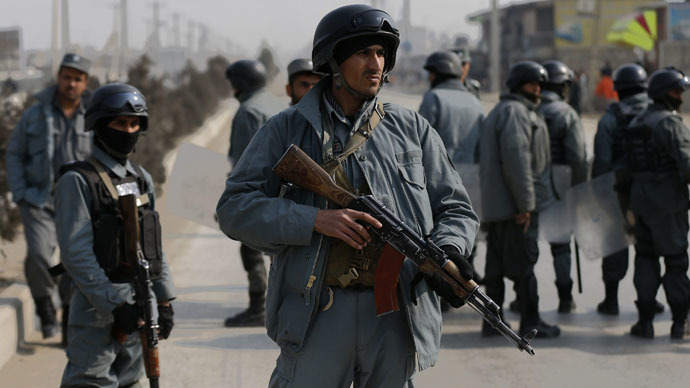 The US imperative of security at any cost after the ouster of the Taliban created an atmosphere of absolute impunity among Afghan authorities and strongmen, who could get away with murder, torture and all other possible human rights abuses, HRW reports.
The years of occupation in Afghanistan have been marked with the utmost iniquity of Afghan authorities and warlords associated with them, claims the new 96-page Human Rights Watch report "Today We Shall All Die": Afghanistan's Strongmen and the Legacy of Impunity."
The report is based on 125 interviews with the HRW taken "victims of abuse and their family members, as well as witnesses, government officials, community elders, journalists, rights activists, United Nations officials and members of Afghan and international security forces" starting from August 2012.
The document combines facts about eight Afghan strongmen who could get away with human rights abuse and other crimes for years due to strong links with law enforcement, intelligence, and American military and occupation authorities.
The fall of the Taliban government in late 2001 opened way to unprecedented debauchery in Afghanistan, when justice was violated not by terrorists or extremists, but by high-ranking Afghan officials and government forces or armed groups under their command.
"@PressTV: Afghan forces kill 27 Taliban militants during cleanup operations http://t.co/eV1BCDJwEv#Afghanistanpic.twitter.com/jIHVvVal0n"

— #Gaza #FreePalestine (@leilanazzar) February 19, 2015
READ MORE: Expensive chaos: Billions of dollars meant for Afghanistan development wasted
"Justice [is] a luxury for now; we must not lose peace for that," the report quotes former President Hamid Karzai as saying in 2002 after coming to power.
"Short-term concerns for maintaining a bulwark against the Taliban have undermined aspirations for long-term good governance and respect for human rights in Afghanistan," the report said.
READ MORE: Afghan security crisis: 13 years & $100 billion after US entry
Abductions, kidnapping, illegal detentions, extrajudicial executions, rape, robbery and coldblooded murder of civilians are only a fraction of the brutal crimes committed for years by omnipotent bureaucrats under Karzai's administration and armed militia warlords. Afghan law enforcement has been reported of using torture systematically.
pic of 70 yr old mosque, destroyed, set ablaze by pro-govt militia in Shalgar district, Ghazni province, Afghanistan pic.twitter.com/86fQdQ2xTb

— Khalid Khan™ (@khalidkhan787) March 1, 2015
"The previous Afghan government and the United States enabled powerful and abusive individuals and their forces to commit atrocities for too long without being held to account," said Phelim Kine, HRW deputy Asia director. "The United States, which helped install numerous warlords and strongmen after the overthrow of the Taliban, should now lead an international effort to support the new government to remove serious human rights abusers from their ranks."
The country has been enduring conditions of total terror and lawlessness, but the Afghan officials responsible for this were acting in full connivance with the American occupation authorities, so nothing could possibly bring these individuals and their subordinates to justice.
AFGHANISTAN #HAZARA#ABDUCTION: 30 Hazara men taken off a bus by militia. For ransom? For execution? Who knows...... http://t.co/6yQ046NTUf

— EarleyDaysYet (@EarleyDaysYet) February 24, 2015
"Officially, the United States has backed anti-corruption measures, while at the same time reportedly protecting officials accused of corruption who have been deemed vital to the war effort," the report said, claiming that even the US Special Forces closely cooperated with various strongmen notorious for their brutality.
"Initiatives ostensibly undertaken to curb corruption and other abuses have had virtually no impact, for the same reasons there has been no progress tackling impunity in other areas," the report said.
The outcome of these policies has been predictable rise of support for the Taliban units and other anti-government armed forces.
READ MORE: 'More Afghanis are going to turn to the Taliban, seeking safety'
#Afghanistan US-backed militia runs amok http://t.co/w8VeHZIKlT Fresh allegations of extrajudicial executions pic.twitter.com/GUgAm2tVTN

— Phelim Kine 林海 (@PhelimKine) July 23, 2014
Ordinary Afghans could only dream that one day their offenders could be held accountable for their crimes, while "The rise of abusive political and criminal networks was not inevitable," the report said.
"The Afghan government and its supporters should recognize that insecurity comes not only from the insurgency, but from corrupt and unaccountable forces having official backing," Kine said.
According to Transparency International, Afghanistan remains one of the most corrupt countries in the world.
READ MORE: Pentagon: We made Afghan corruption worse
"Afghanistan's international allies have exacerbated the problem by prioritizing short-term alliances with bad actors over long-term reforms. It's time for this pathology to end," Kine said.
Human Rights Watch is urging the Afghan government to "investigate all allegations of abuse by Afghan security forces, and remove from office and appropriately prosecute officials and commanders implicated in serious abuses." The irregular armed groups should be disbanded by the Afghan Ministry of Interior and hold accountable for crimes they have committed.
"The informal nature of militias can make it difficult to establish who has ultimate command responsibility for their actions," the report says.
What Afghanistan does not need is another militia: counter-IS in Balkh. http://t.co/bXzeDEBgBWpic.twitter.com/L9tX8cv35D

— Sunny in Kabul (@Sunny_In_Kabul) February 28, 2015
The US government should provide full support, including a financial one, to help prosecute those Afghans responsible for gross human rights violations and bring them to justice.
"Kabul and its foreign supporters need to end their toxic codependency on strongmen to give Afghanistan reasonable hope of a viable, rights-respecting strategy for the country's development," Kine said.
Afghanistan's new President Ashraf Ghani, who is planning to visit the US later on in March, declared that his government is not going tolerate use of torture within state structures. Ghani has thanked the HRW for the report, but left personalized allegations against government officials unattended.