Russia, Egypt to hold joint naval drill in Mediterranean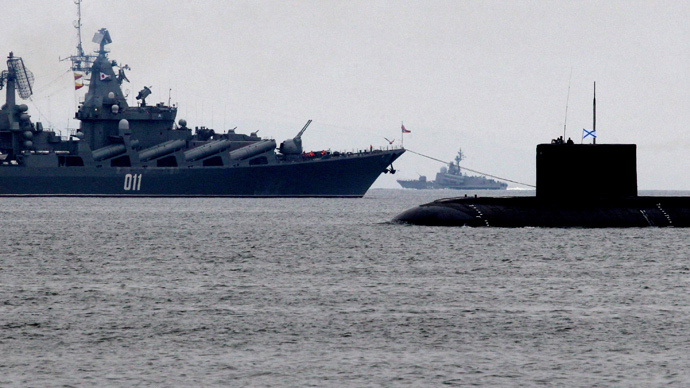 Russia and Egypt have agreed to hold a joint naval drill in the Mediterranean and to carry out joint anti-terrorist exercises, Russia's Defense Ministry said in a statement following talks between ministers of the two countries.
On Tuesday, Russia's Defense Minister Sergey Shoigu and his Egyptian counterpart Sedki Sobhi agreed to sign a deal on military cooperation between the two countries. The agreement will "determine the vector of our military cooperation for years to come," said Shoigu following the talks.
"The parties agreed to continue the practice of inviting Egyptian military to Russian exercises in the capacity of observers, and also to hold a naval exercise in the Mediterranean this year and an anti-terrorist exercise of rapid reaction forces," Russia's Defense ministry said in a statement.
READ MORE: Russia to help Egypt build 'a whole new nuclear power industry' – Putin
The two ministers discussed international and regional security matters, while Shoigu also invited Egypt to take part in the Military World Games and the International Military-Technical Forum "ARMY-2015", to be held in Russia.
Sobhi arrived in Russia for a meeting of the bilateral commission for military-technical cooperation which is to be held on Wednesday.
Russia and Egypt signed weapons deals to the value of $3.5 billion, the Federal Service for Military-Technical Cooperation head Aleksandr Fomin said in September 2014. Media reports claimed that the contracts dealt with the supply of air defense systems, attack helicopters, MiG-29 fighter jets, and anti-tank systems.
Russia's state-owned high-tech corporation Rostec's CEO Sergei Chemezov told RIA Novosti earlier that under the deal Russia would supply small arms, air defense and artillery.
In February, President Vladimir Putin announced that the two countries had signed a number of agreements after a meeting with Egyptian President Abdel Fattah al-Sisi in Cairo.
You can share this story on social media: