​'Manage your fear, smile no matter what' – paramedic working in Donetsk
Published time: 4 Mar, 2015 12:00
Edited time: 4 Mar, 2015 12:50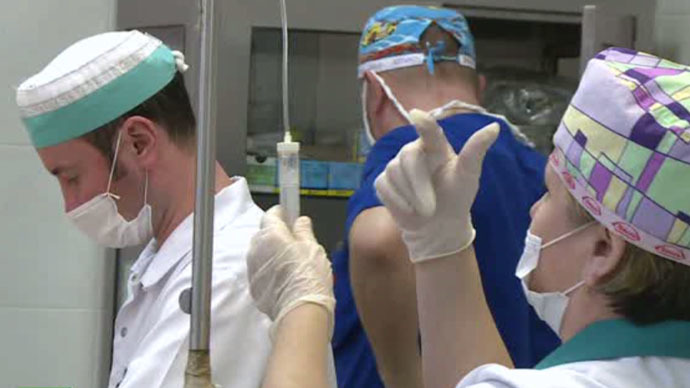 On call 24/7, Donetsk paramedics risk their lives responding to calls in the most dangerous areas. RTD joined one of these teams as they rescued and treated the wounded—civilians, rebel fighters, and Ukrainian soldiers alike.
Ambulance crews see overwhelming numbers of dead and wounded on a daily basis, but paramedic Ksenia says that despite the fear she tries to put on a brave face. Ksenia and her team race against time to save those wounded in the conflict and get them to trauma centers. They don't always make it. She says it's hard not to take it to heart.
"Sometimes I feel like crying, but if I give in and do, if I get tearful, it would be hard on the others. One must do the opposite – act encouragingly and smile no matter what," she told RT.
Waves of casualties are shuttled by the crews to area hospitals. Most of the injuries are shrapnel wounds from shelling, and many of those wounded are noncombatants including children, according to local doctors.
"Overall civilians suffer more… At least, a serviceman knows what to expect," one doctor told RT.
Donetsk hospitals treat everyone without discriminating, offering the same care to militia fighters and Ukrainian soldiers alike, the doctors say.
"We help everyone. It's our job," a paramedic told RT. "There were a lot of Ukrainian military men coming in summer, and now again. They receive all the necessary therapy."
Since the beginning of the conflict last April, 5,826 people have been killed and at least 14,122 injured in eastern Ukraine, according to a UN report in February.
A shaky ceasefire agreed in Minsk last month, appears to be broadly holding despite major violations in the last few weeks, including the rebel capture of the strategic railway hub at Debaltsevo. However, the OSCE has reported that the rebels are now withdrawing heavy weaponry from the demarcation line. Last weekend was one of the quietest in months.