Not just 'sexy drones': Facebook CEO looks at other ways to connect the world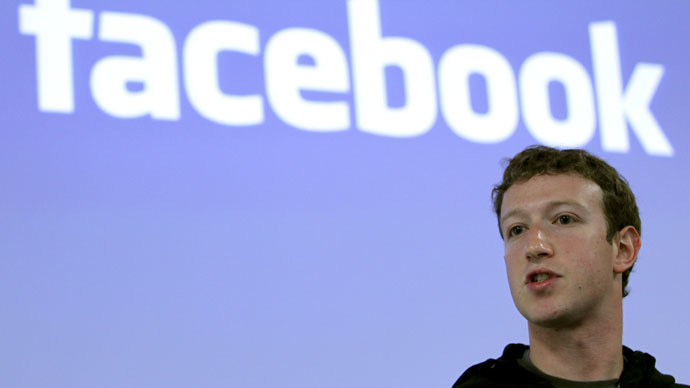 Mark Zuckerberg says Facebook still plans to build drones to get the world online – just don't expect to see them operational anytime soon. His pet project, Internet.org, isn't universally liked, with critics saying it's a Facebook marketing tool.
Zuckerberg believes there is no point in looking to introduce revolutionary new technology just yet, as most people already live within range of more conventional infrastructure for the provision of internet services. He understands that people like to talk about drones and lasers because "it's sexy," but also added "it's not the big bit."
"Some of the technology we have today isn't cost effective... just because we're working on plans and satellites doesn't mean that that is the type of stuff that will do it. Over the next five to 10 years, there will be a lot of innovation," Zuckerberg said, at the World Mobile Congress in Barcelona.
When talking about conventional infrastructure, Zuckerberg is referring to cell phone towers and fiber optic cables. In the short term, the Facebook CEO believes more needs to be done to optimize their possibilities in getting more people connected to the internet, adding that "90% of the people in the world already live within range of the network," as reported by CNET.
At MWC, Facebook's Zuckerberg seeks peace with telcos as he pushes 'http://t.co/YVuxwxeQrY' http://t.co/UGXCOXdK3Zpic.twitter.com/Tgpgf6KmTl

— tech2 (@tech2eets) March 3, 2015
Part of the problem faced by Zuckerberg in his internet quest is to convince people of the advantages of going on line, drawing comparisons to the early days of the internet when people in developed countries needed convincing it was worth using.
Also speaking at the conference was Kartik Sheth, CEO for data and devices at Bharti Airtel, which is an Indian telecommunications company. During a seminar, he mentioned internet usage rates in some of his markets are only half those of smartphone ownership rates. He added that some phone salesmen advise customers not to get connected to the internet so as to avoid extra costs for data charges, the MIT Technology Review reports.
Mobile is eating the world; by 2020 80% of all adults will have a smartphone. #MWC15http://t.co/MxKsg6T7oMpic.twitter.com/dL6izqJY9a

— Vala Afshar (@ValaAfshar) March 2, 2015
This is where Internet.org comes in to try and get the two thirds of the world not connected to the internet, online. The platform sees Facebook link up with regional partners in various countries to try and expand internet use and provide free services. The service is already on offer in places like Ghana, Zambia and India.
"Reliance customers (Indian mobile network) in six Indian states (Tamil Nadu, Mahararashtra, Andhra Pradesh, Gujarat, Kerala, and Telangana) will now have access to more than three dozen services ranging from news, maternal health, travel, local jobs, sports, communication, and local government information," Internet.org stated on its website on February 10.
"The overwhelming feedback we've heard from our partners is that it works," he said. The Facebook CEO also added that once connected to the internet and using the basic services on offer, the public have begun to make more phone calls and send more text messages.
What a difference a year makes: This time Zuckerberg is operator-friendly http://t.co/XmeE8je3a8 by @tweets_amandapic.twitter.com/uzBNfK4Z1u

— TNW at #MWC15 (@TheNextWeb) March 3, 2015
However, it does have its critics. Internet.org only offers a selected number of sites, which are predetermined by Facebook and its selected partners.
"I am actually incredibly afraid of what happens if Internet.org succeeds," says Mark Surman, executive director of the Mozilla Foundation. "We need to be behind the internet as an open marketplace for ideas," according to the MIT Technology Review.
Zuckerberg does accept that Internet.org is not universally well received around the globe, despite the orgainization's best intensions and realizes that perhaps the wrong people are getting all the credit.
"We're not doing the actual digital connecting; we're trying to help people connect with each other," Zuckerberg said. "Internet.org is conflated with Facebook… the face of what internet.org needs to be are the companies that are actually building the infrastructure and laying the cables in the ground," he added, speaking at the conference.