No more wires: ​Ikea unveils furniture with built-in wireless device charging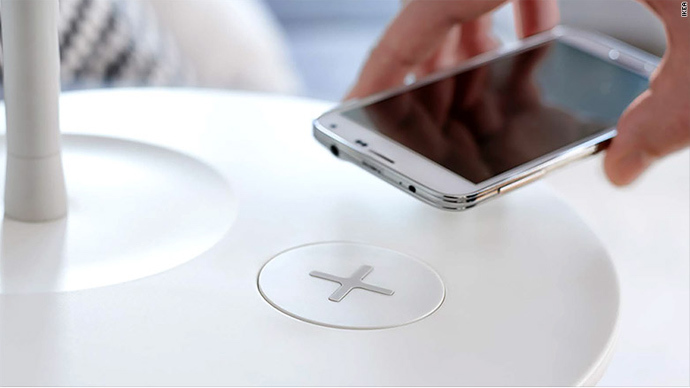 Absent-minded smartphone enthusiasts rejoice: The Swedish furniture behemoth has launched a new line of furniture fitted with wireless charging spots for mobile devices.
IKEA has partnered with Qi to produce desks, tables and lamps capable of charging smart phones and tablets. The wireless charging pads are integrated directly into the furniture. The company will also sell stand-alone charging pads that people can tack on to existing furniture.
Ikea debuted the new "Home Smart" collection at the Mobile World Congress tradeshow currently under way in Barcelona. Home Smart will use Qi, one of the leading global wireless charging standards, to charge devices placed on or near the furniture.
"Through research and home visits, we know that people hate cable mess," said Jeanette Skjelmose, a corporate manager at IKEA. "They worry about not finding the charger and running out of power. Our new innovative solutions, which integrate wireless charging into home furnishings, will make life at home simpler."
Totally green: #IKEA pledges to switch to 100% renewable energy by 2020 http://t.co/3t1YSYGl

— RT (@RT_com) October 24, 2012
The charging furniture is set to go on sale mid-April in Europe and North America. Reps for the company have said that a "global roll-out" is also in the works. Ikea's Qi chargers will work with Samsung Galaxies, Google Nexus 6, and a few others. The technology isn't currently compatible with iPhones, but adapters are available.
Qi's competitors in wireless charging include Power Matters Alliance, whose chargers are used around in the world in Starbucks in MacDonald's cafes.
Some users of wireless charging technology have cautioned that the process generates excess heat, which can damage smartphone batteries.
Environmental groups also worry about the ecological impact of the new doodads. The eco organization, Friends of the Earth, told the BBC they are concerned about recycling such products, as they may be difficult to separate from the furniture they are built into.