Moscow police briefly detain Ukrainian MP at Nemtsov mourning march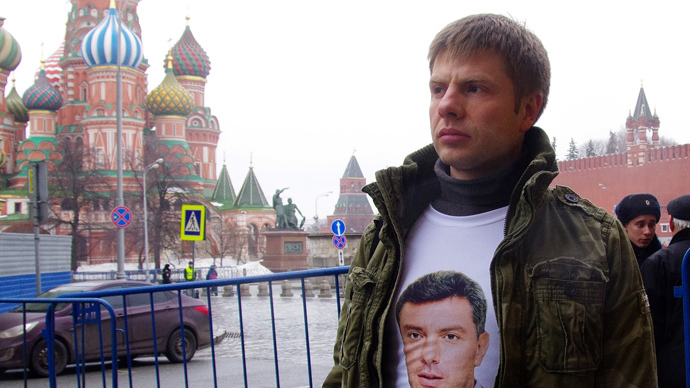 A Ukrainian MP was detained for failing to obey police at a Moscow rally in commemoration of opposition figure Boris Nemtsov. He was released after spending some five hours at a police station.
Aleksey Goncharenko, a Verkhovnaya Rada MP and Parliamentary Assembly of the Council of Europe (PACE) delegate, was detained on Sunday, according to his lawyer Mark Feygin.

Russia's Investigative Committee reported on its website that it also plans to question Goncharenko in connection with a criminal case launched in Russia over the torture and attempted killing of a Russian citizen during the Odessa massacre last year.
READ MORE: Thousands mourn slain opposition politician Nemtsov at Moscow march
Forty-eight people died as radicals set fire to Odessa's House of Trade Unions on May 2, 2014.

"There was no questioning. Goncharenko said that he won't speak without the presence of Ukraine's consul or his lawyers," said Feygin.

Goncharenko was charged with an administrative offense, and his hearing in court was set for Monday, said Feygin. Under Russian law, he could have been detained for 15 days. However, due to his diplomatic immunity, the court was obliged to close the case on Monday, his lawyer added.

Meanwhile, Goncharenko, a member of President Petro Poroshenko's bloc in Parliament, claimed on his blog that Moscow police detained him for wearing a t-shirt which had a photo of Nemtsov and "Heroes don't die" written in Ukrainian.

Ukraine's consul in Russia, Genady Breskalenko, was allowed to see Goncharenko and they left the police station together. Goncharenko was taken to the Ukrainian embassy in Moscow.