Ukrainian photog killed in shelling outside Donetsk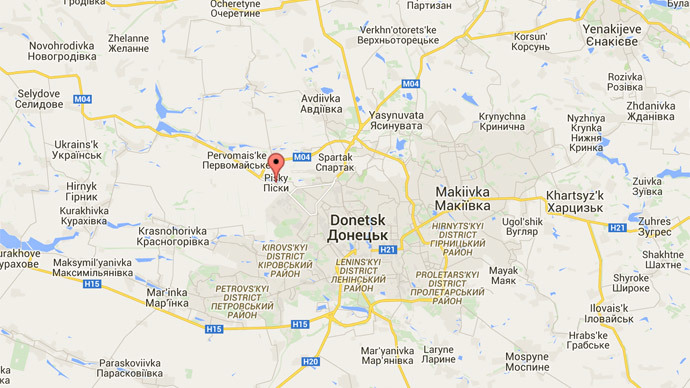 Ukrainian photojournalist Sergey Nikolaev has been killed by a mortar shell in the Donetsk region, according to his colleagues from Kiev's Segodnya newspaper.
Multiple Ukrainian sources indicate that Nikolaev was with Nikolay Flerko, a volunteer for the nationalist Right Sector battalion, in Pesky, on the outskirts of Donetsk, when he was wounded.
The two men, who were reportedly not wearing bulletproof vests or helmets, were taken to a local hospital before being declared dead.
На Донбассе погиб фотограф издания "Сегодня" Сергей Николаев. Он был ранен осколком мины в н.п. Пески. pic.twitter.com/bON1oKdIzx

— IT Sector Харьков (@itsector) February 28, 2015
"He was an outstanding photographer and gave himself fully to his job," said an editorial posted on Segodnya's page.
Si chiamava Serhiy Nikolayev, era un reporter. Oggi è morto sotto le bombe a Pesky, #Ukraine. Foto Reuters @la_stampapic.twitter.com/DfgemLl9ma

— Niccolò Zancan (@NiccoloZancan) February 28, 2015
According to the Committee to Protect Journalists, Nikolaev becomes the eighth journalist or media worker to die in eastern Ukraine, since the conflict broke out last year.
"We don't know all the details, but there was shelling in Pesky today," said Ukrainian military spokesman Andrey Lysenko to Reuters.
Active fighting has subsided in eastern Ukraine in recent days, with consecutive days without casualties reported earlier this week, as the government forces and the anti-Kiev militias move to comply with the internationally-mediated peace plan, agreed in Minsk earlier this month.
READ MORE: 'How it all ends': Slain journalist Andrey Stenin lives on in epic Maidan photos
"For the past days, combat operations have been significantly reduced across the conflict zone, although some violence has still occurred around Donetsk airport, as well as close to the town of Mariupol," the head of the OSCE mission to Ukraine, Ertugrul Apakan, told the UN on Friday night.
"As to the withdrawal of heavy weapons, yesterday our monitors began observing the movement of heavy weapons away from the line of contact on several instances."
UN estimates that at least 5,600 people have died in the conflict, though the true figure could be much greater.
You can share this story on social media: