Washington supplying Kiev with satellite intelligence of conflict in east – report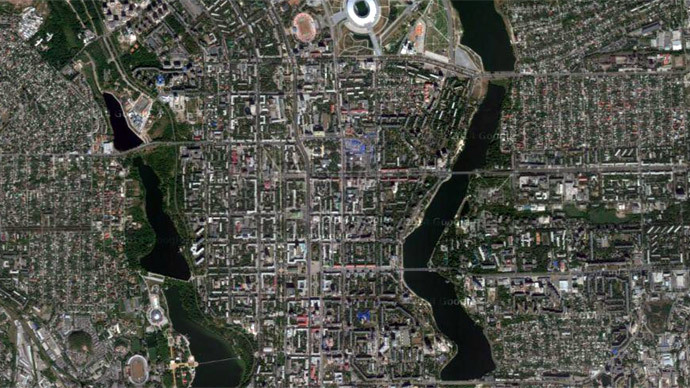 The US is supplying Kiev with spy satellite imagery of enemy positions in eastern Ukraine, but does so by deliberately reducing the quality, apparently so as not to anger Russia too much, according to The Wall Street Journal.
A debate has been on in the US for some time on whether the Obama administration should provide the Kiev government with actionable intelligence. As with providing "defensive" weapons, the disagreements are similar.
However, imagery reduced in quality has apparently been green-lighted, but only arriving to the Ukrainians 24 hours late at the least. This step is apparently to ensure the US isn't in any way thought of as a participant in the conflict, the newspaper said, referencing its own sources.
READ MORE: Russia shrugs off US envoy's 'evidence' of Russian troops in Ukraine
Another reason for why the images are somewhat degraded is in the event of the photos accidentally ending up with the Russians, who as a result would learn more about American spy satellite capabilities.
Ukraine does not like the way things are at the moment, complaining that it hampers its efforts against what it calls Russia-backed troops.
"This assistance is not sufficient… We don't have a day to wait for satellite images. The information should be real time," Andriy Parubiy, first deputy chairman of the Ukrainian Rada told WSJ.
Moscow has repeatedly denied aiding the rebels.
Parubiy, on the other hand, adds that a deal is already in place with Canada to supply more real-time and more high-resolution data.
His concerns about timeliness and quality are shared by many within the American political elite, especially the famously anti-Russian Senator John McCain, who has been making claims of weapons support for the uprising from Russia.
Nonetheless, the White House has last year agreed to Kiev's request for intelligence on east Ukraine, albeit after things are done to it. This also allegedly includes blacking out Russian territory.
These compromises are there allegedly to give the Ukrainians a better idea of what they're dealing with at home, rather than what takes place a stone's throw away on foreign soil.
READ MORE: US, UK meddling in OSCE's mandate in Ukraine – Russia's envoy to UN
Ukraine meanwhile continues to pressure the US for weapons as well, from radars to missiles to drones, but only getting so much, as it's not a NATO member – unlike Russia's other immediate neighbors Poland, Lithuania and Estonia, who have all got Javelin missiles.
Ukraine's non-membership is thought to have led to a consensus among NATO members to hold off on supplying it with lethal aid, according to an unnamed military official.
However, Anti-Kiev hacking group, CyberBerkut, said that they have obtained documents proving that the US plans to supply lethal weapons to Ukraine through private military companies.
"We've accessed files stored on an electronic device of one of the members of the Green Group private military company, who recently visited Kiev as part of the US army delegation," the group said on its website.
The hacktivists also posted online the copies of documents, suggesting that the Washington hasn't given up the idea of arming the Kiev government, but wants to receive support for the move from its allies in Europe.
According to CyberBerkut, the supply of weapons will be entrusted to experience professionals from private US military companies, who will arrive in south-eastern Ukraine to take part in the war.
You can share this story on social media: