The selfie obsession: Get a real life 3D image of… yourself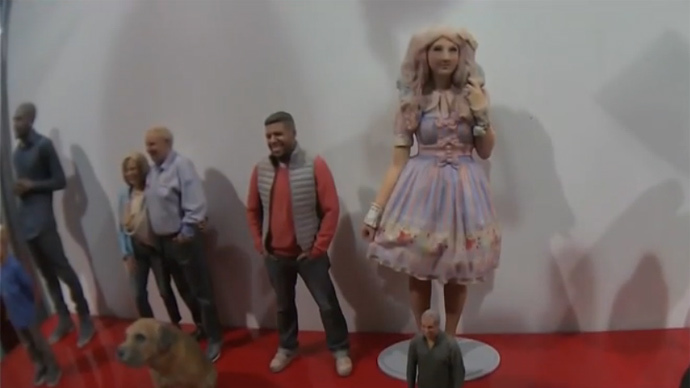 The selfie mania has reached a whole new level, with a German company, offering people to buy real 3D models of themselves. Fifty-four cameras take a body scan, with the image being sent to a 3D printer. The result: A real life statue of yourself!
The 3D-printing craze has already seen designers create real life houses and even guns. So it was probably only a matter of time before we would see a technique that would make realistic copies of people.
Germany's Doob company has created their very own booth, equipped with 54 cameras at different angles and heights, which take a full scan of a person.
"The DOOBLICATOR is a mobile, contactless, full body scanning system that ensures quick (0.01 sec) and highly precise detection of the human body and other complex surface structures," a press release from the company stated.
People have the opportunity to turn up at one of the company's locations or they can book in advance to get their own real life statue. However, the service is not only for humans. Pets can get the same treatment.
"The statue takes the selfie to a new place and it's a much more different experience. You could say that the selfie is just another way of taking a picture, whereas this gives you a little bit more insight into yourself. When you get a 3D statue of yourself, you are seeing yourself in a whole new dimension,"said Michael Anderson, the CEO of Doop America.
Prices range between $100 and $1,000 for a model up to 14 inches in height. It's also possible to get a real life-sized statue made, but that would set the customer back about $75,000.
While intrigued, the general mood of the public was that the statues printed by the Doob company were bordering on narcissism.
"Maybe I would do it as a gift for someone else, but I would not do it for myself," one bystander told RT at the company's printing facility in New York.
"You really have to be into yourself and be confident to really want a statue of yourself," said another.