North Korea holds missile and artillery live firing drill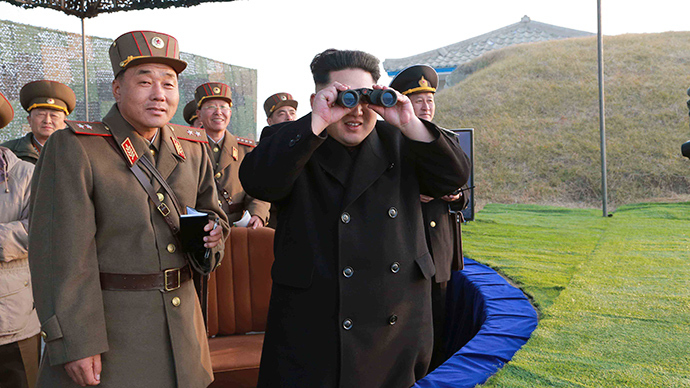 The North Korean leader attended battlefield gunnery training near the South Korean border on Friday. The drills took place ahead of the announced US-South Korea joint war games set for March close to North Korea's border.
The exercise simulated the assault and capture of an enemy island, reported the North's official Korean Central News Agency (KCNA). The drills took place on the islands of Mu and Jangjae "in the biggest hotspot in the southernmost part of southwestern front," KCNA reported.
North Korean detachments involved in the training launched anti-ship Silkworm missiles and ground-to-air missiles, as well as multiple rocket launchers, South Korea's Yonhap news agency reported.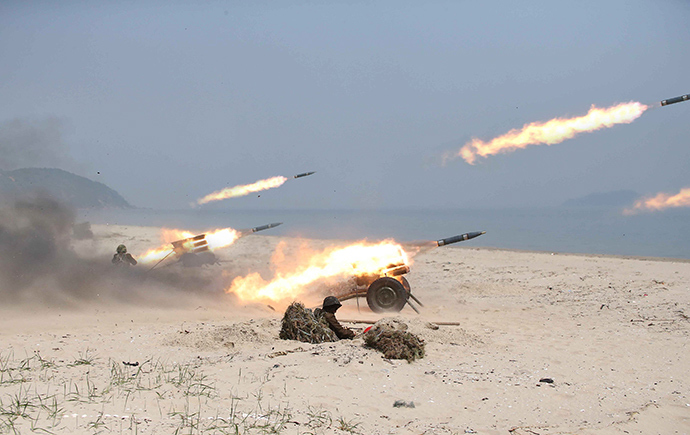 Korean People's Army's artillery units and coastal missile anti-ship missile squads, including the 4th Corps, did the firing. The 4th Corps, while operating from Mu Island, shelled South Korea's Yeonpyeong border island in 2010, with the incident causing the deaths of four South Korean civilians and servicemen.
North Korean troops on Mu Island that took part were honored with the accolade the 'Hero Defense Detachment' when Kim Jong-un visited Mu and Jangjae in 2012. A year later, in 2013, he threatened to "wipe out" Yeonpyeong Island and other South Korean islands in the disputed border zone in the Yellow Sea, which saw armed clashes in 1999, 2002 and 2009.
Kim Jong Un Inspects Artillery Company | @KCNAWatchhttp://t.co/URw4TmPQb5pic.twitter.com/nObEFTuRLU

— NK NEWS (@nknewsorg) December 3, 2014
Pyongyang doesn't recognize the Northern Limit Line, a maritime boundary between the two Koreas unilaterally drawn by US-led United Nations forces following the Korean War in 1950-53.
North Korean leader Kim Jong-un was reportedly very pleased with the results of the drills and urged the troops to be combat-ready to repel an attack from the US.
North Korean dictator Kim Jong-un pictured surrounded by female fans at an artillery unit.n Seoul.#BadBoyEffectpic.twitter.com/HnK0QGEqy0

— Leon Khalwale (@LeonLidigu) April 25, 2014
"Whenever the artillerymen hit targets, Kim Jong-Un expressed his great satisfaction, saying that they were very good at the concentration of fire and such shell-fire would remove the enemy island totally," KCNA informed, as cited by AFP.
Official Seoul believes Pyongyang's weapons training exercise was a response to next month's US-South Korean drill, which North Korea condemned as a dummy run for an invasion.
According to Koh Yu-hwan, a professor of North Korean Studies at Dongguk University in Seoul, Pyongyang tends to reduce the number of troops participating in drills to save money. However, North Korea has willingly demonstrated its newest weapons in recent years, the professor told AP.
Washington and Seoul insist their regular military training near North Korean borders are defensive in nature and have nothing to do with possible acts of aggression against Pyongyang.
In January, the North Korean leadership proposed to the US that it would temporarily ban its nuclear tests in return for Washington giving up military training with Seoul in 2015, AP reported, but this was refused.