2 trains collide near Zurich with at least 5 people injured - local media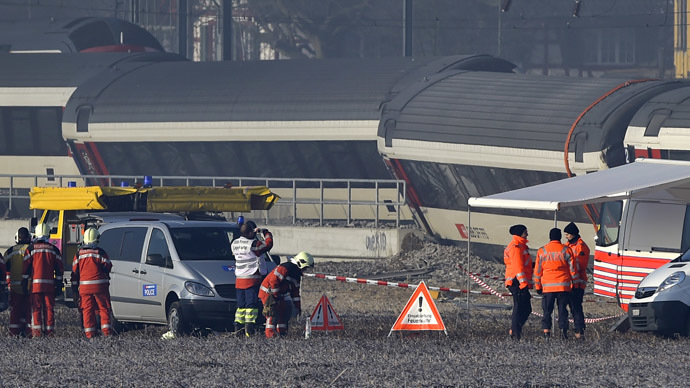 Two Swiss passenger trains have collided near Rafz Station north of Zurich in an accident early morning, injuring at least 5 people, one seriously, according to police.
#rafz#Zürich#Swiss#Zurich RT @euronews: Swiss train collision injures 'scores of people' http://t.co/P5KVtv9QUmpic.twitter.com/xkWqgM3uYG

— Muschelschloss ☕ ️ (@Muschelschloss) February 20, 2015
Previously a member of the emergency services was cited as saying the figure of injured stood at 49.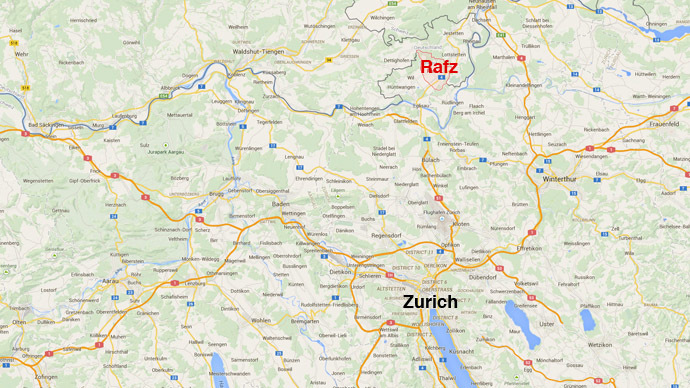 A witness riding in one of the trains described how the S-Bahn Schaffhausen derailed in Rafz Station, saying that "probably the engineer has overlooked a red light." But then, "from behind came the fast train from Zurich to Schaffhausen," ramming the first train and shifting it sideways.
A total of five cars were reportedly derailed.
#Suisse, collision entre 2 trains à #Rafz (nord #Zurich). Blessés selon police. Photo via @blickamabend via @ludo_luxpic.twitter.com/7mfxEYhb0N

— Grégory Leclerc (@GregLeclerc) February 20, 2015
There was smoke in the front area of the S-bahn, witness January Sieber, 18, told local media. "The trains looked pretty badly damaged," he said, while another witness reported how one of the trains stood still on the bridge.
[AHORA] Dos trenes han chocado esta mañana en #Rafz, al norte de #Zúrichpic.twitter.com/gjogmgv9wK

— Diego (@Diego_Pelayo) February 20, 2015
Both drivers then asked the passengers to disembark, as "ambulances from across the region were mobilized" to treat the injured, according to an employee speaking anonymously.
++UPDATE: Zug-Crash bei #Rafz ZH: Strecke Zürich-Schaffhausen unterbrochen! pic.twitter.com/wBWgKFaljM

— Blick am Abend (@blickamabend) February 20, 2015
Rafz Station was being secured and roads were blocked as numerous police and emergency vehicles arrived at the scene.
Zugunglück beim Bahnhof Rafz ZH: Auch die Rega ist jetzt vor Ort - http://t.co/FwX6IGlJIMpic.twitter.com/IdSjq67RGj

— watson (@watson_news) February 20, 2015