Reports suggest some Western countries want rapprochement with Syria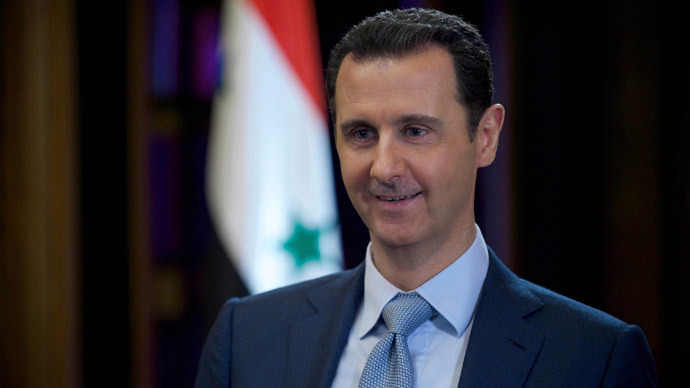 Diplomats from some EU capitals have reportedly told Reuters the time is ripe for restoring diplomatic relations with Syria, where President Bashar Assad remains in power four years after the start of a brutal civil war.
Although London and Paris are reportedly opposed to shifting their stance on Syria, adhering to the US line that Assad "must go," diplomats from a growing number of European Union countries support a move toward the renewal of relations, Reuters reported.
The countries that appear to be leaning towards a rapprochement with Damascus include Austria, Bulgaria, Denmark, Romania and Spain. The Czech Republic, which did not withdraw its ambassador, is in favor of the initiative. Norway and Switzerland, which are not members of the EU, are also on board.
But even in those EU countries that are officially opposed to renewed relations, there is talk that the Syrian crisis could have been handled better. One senior French diplomat admitted that closing the embassy was a mistake, the news agency said.
The gradual change in attitude toward Syria has increased since the Islamic State (IS, formerly ISIS) made territorial gains in Syria and Iraq, prompting US-led aerial attacks on IS positions in the country – despite harsh criticism from Damascus, which accused Washington of violating its territorial integrity.
READ MORE: US-trained 'moderate' Syrian rebels to get tools to call-in airstrikes – report
Some diplomats have even hinted at the possibility of Assad being of assistance in the anti-jihadist campaign, which has become more outspoken following a series of deadly attacks in several EU countries.
"Some states say Bashar is a reality, we have to take this into account if there are threats to Europe," one European diplomat was quoted as saying.
In 2011, the EU imposed sanctions against Syria as the authorities resorted to strong-arm tactics to put down the protests, which escalated into a full-blown civil war.
Amid the changing undercurrents regarding Syria, the United Nations Syria envoy said on Tuesday that Damascus was prepared to halt its bombing of Aleppo, a rebel stronghold, to pave the way for a possible ceasefire.
"It is important the European Union support the UN mediator and his effort to create a ceasefire," Denmark's Foreign Minister Martin Lidegaard told Reuters. "In relation to that, we cannot avoid to talk to the regime in Damascus since they represent an element of power."
EU diplomats note that the US, despite its objections to Assad remaining in power, do not have any viable alternative solutions, aside from continuing to support the opposition.
READ MORE: Pentagon dispatches first batch of US forces to train Syrian rebels
"We don't know what this coalition wants and the United States is not deciding," Bassma Kodmani, director of the Paris-based Arab Reform Initiative and a former member of the main Syrian opposition in exile, told Reuters.
"That's leading to calls in Europe that Assad is the lesser of the two evils. The debate has come full circle."
Meanwhile, several EU states have diplomats who travel to Syria but are not based there officially. "Others who kept them open were able to have eyes on the ground and keep a relationship with Assad," another French diplomat said.
"We don't have a clear idea of what's going on. Within intelligence circles the will to renew the dialogue is there."
You can share this story on social media: