'Doctor Death' opens controversial museum of dead bodies in Berlin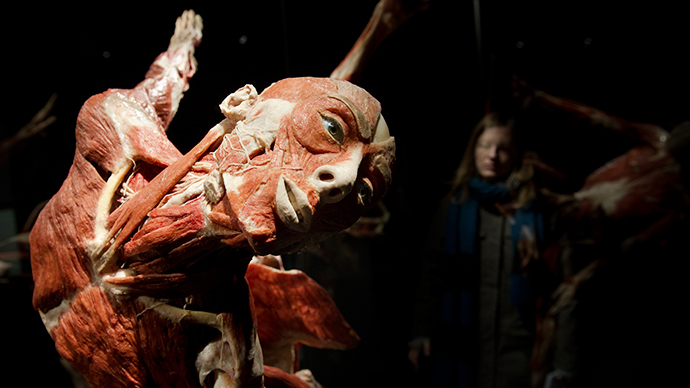 German anatomist Gunther von Hagens, known worldwide as "Doctor Death," has opened his first permanent exhibit in Berlin. Von Hagens is famous for exposing human corpses stripped of skin and covered with a special material.
The "Body Worlds" museum has opened in Alexanderplatz in the center of Berlin on Wednesday. It consists of 20 skinned bodies and 200 dismembered parts, showing internal organs, muscles and bones. The bodies are kept in positions typical of living people, for example, engaging in sport. Among the showpieces there are also the lungs of both a smoker and non-smoker.
Trotz der Widerstände des @BA_Mitte_Berlin: #Menschenmuseum am Alex gestern eröffnet. Hier ein erster Eindruck: pic.twitter.com/t4p4CBz8DP

— BVV-Piraten Mitte (@PiratenBVVMitte) February 18, 2015
"After visiting the exhibition some people said they would never take their bodies for granted anymore," von Hagens' wife Angelina Whalley, the Body Worlds creative director, said. According to her, special polls showed nine percent of people who visited the exhibition gave up smoking, 23 percent intensified their physical activity and 30 percent started eating more healthy food.
For 20 years, von Hagens' Body Worlds toured the world. Around 40 million people have visited shows in 23 countries.
The aim of the museum is to "show the complexity of the human body, but also its vulnerability," Angelina Whalley said as cited by the News Directory.
All the bodies presented in the museum were donated through the special program. The curators of the program state over 15,000 people are on the list of donors.
The Berlin health authorities had tried to prevent the opening of the museum but finally an administrative court allowed it and the opening took place later than was previously planned.
#Plastinator Gunther von Hagens eröffnet mit Ehefrau Angelina Whalley #Menschenmuseum am #Fernsehturmpic.twitter.com/5JeyGGwgbY

— Dirk Jericho (@DJ_reporter) February 17, 2015
Von Hagens has been facing severe criticism from different religious leaders and ordinary people who demanded that he close the exhibitions as the dead bodies deserved reverence.
Some of them filed lawsuits against von Hagens. One example saw the closure of his exhibition in Frnace in 2009 by a court.
Von Hagens, professional anatomist and ex-university lecturer, invented the technique of plastination to preserve biological tissues in 1977. The specimens are covered with special silicon rubber and resin.
The invention allowed von Hagens to plastinate a dead body for the first time in 1990 and then to start making exhibitions of human and animal bodies all over the world.
Von Hagens,70, who is suffering from Parkinson's disease, expressed a desire for his body to be plastinated after his death and become a part of the exhibition.
You can share this story on social media: