Japan's progress in Fukushima clean-up 'significant', but threat remains – UN nuclear watchdog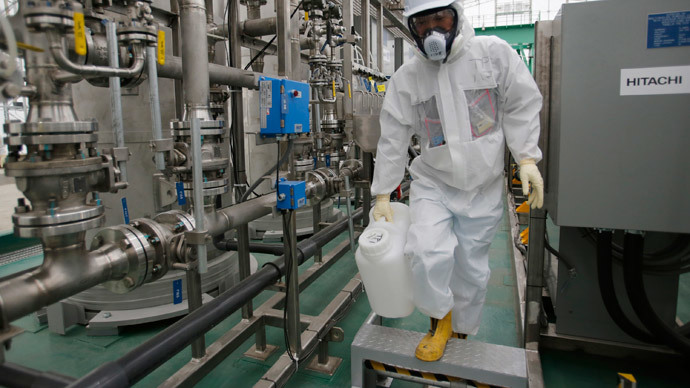 Experts from the UN nuclear watchdog praised Japan's "significant progress" in the clean-up of the tsunami-struck Fukushima nuclear station, but stressed that radiological risks still exist and the situation remains "very complex".
The team of 15 experts from the International Atomic Energy Agency (IAEA) issued the preliminary summary of the third report of the on Tuesday.
The review examines the implementation of the Fukushima Daiichi nuclear power station decommissioning roadmap. The inspection was made from 9 to 17 February 2015 while the previous two were conducted in 2013.
"Japan has made significant progress since our previous missions," Juan Carlos Lentijo, IAEA Director of Nuclear Fuel Cycle and Waste Technology and the group leader, said in a statement.
"The situation on the site has improved - progressive clean-up has led to reduced radiation dose levels in many parts of the site."
READ MORE: Promising the muon: Scientists to map Fukushima nuclear hotspots with cosmic radiation
However, the experts expressed their concern over the amount of radiation-contaminated water that increases at the nuclear station which was severely damaged in 2011.
"The situation, however, remains very complex, with the increasing amount of contaminated water posing a short-term challenge that must be resolved in a sustainable manner," Lentijo said. "The need to remove highly radioactive spent fuel, including damaged fuel and fuel debris, from the reactors that suffered meltdowns poses a huge long-term challenge."
Underground waters flowing into the plant and the accumulation of tainted water are one of the factors which make the situation more complex. The other problems are linked with management, storage and the removal of spent nuclear fuel and fuel debris, the report stressed.
READ MORE: TEPCO to siphon off radioactive water from tunnels under Fukushima plant
The group mainly focused on the safety issues of decommissioning concerning radioactive materials at Fukushima. The final report of the agency over the situation is expected by the end of March.
The report also offered some recommendations to ensure the safe decommissioning of the plant and the storage of dangerous waste. For instance, the group advised the development of an alternative solution to keeping contaminated water in storage considering it a temporary measure.
"The path ahead is long, complex and challenging," Lentijo said. "Japan is progressing step-by-step and plans are taking shape, which is a welcome development. It is important to maintain safety as the highest priority during all steps of the decommissioning of the site."
Japan is battling the consequences of the three meltdowns at the Fukushima Daiichi nuclear power plant that was destroyed in March 2011, when a 9.0 earthquake triggered a devastating tsunami. More than 18,000 were killed in the catastrophe dubbed the world's worst nuclear disaster since Chernobyl in 1986.
In September 2013, Japan's Prime Minister Shinzo Abe ordered that two Fukushima reactors which survived the disaster be permanently decommissioned.
You can share this story on social media: