Sunny business: India to trump US with 750 megawatt solar power plant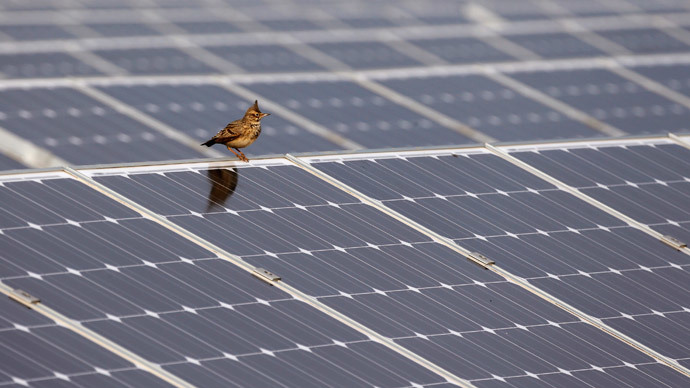 The construction of the world's largest solar power plant is underway in central India. When the 750-megawatt site starts operating in August, 2016, the project is set to overtake America's 550-megawatt 'Desert Sunlight' in California.
The world's largest solar power plant that will be generating 750MW of electricity had been recently commissioned in Rewa district of the Indian state of Madhya Pradesh, the Times of India reported on Monday.
Now, the 40-billion-rupee ($643 million) project is close to acquisition of 1,500 hectares of land, and by April government agencies are believed to start inviting tenders from developers. It is a joint venture of state-run PSU Urja Vikas Nigam with Solar Energy Corporation of India, and at least 20 percent of the energy generated by the plant will be used within the Madhya Pradesh state.
A 750MW solar solar power plant for India. That's about as much solar as Australia installed in one whole year. http://t.co/gtb319IAfM

— Kimberly Jayne (@kimb0baggins) February 16, 2015
"We are planning to inaugurate the plant on August 15, 2016. The plant will be developed in three segments of 250 MW each. Land acquisition will be over by end of month and over 90 percent land for the project is owned by government," additional chief secretary for new and renewable energy, SR Mohanty told the Times of India.
READ MORE: Drone captures Soviet-era 'Tesla Tower' lightning machine (VIDEO)
He added that, "No clearance from pollution control board is required for the project. We have to sign a joint venture agreement between state-run PSU Urja Vikas Nigam and Solar Energy Corporation of India and a detailed project report will be prepared. Preliminary reports are already prepared and we will complete formalities by April and we will be in a position to invite tenders."
As the country embraces clean energy, India plans 25 solar parks and several major solar power projects in the states of Rajasthan, Gujarat, and Jammu and Kashmir. But the production of the Madhya Pradesh project is going to cost less than any other, at an estimated 5 rupees (US8 cents) per unit.
By 2022, India plans to install 100GW capacity of solar power. China aims to achieve the same goal by 2020.
"We have always spoken of energy in terms of megawatt. It is the first time we're talking of gigawatt. We have no option but to make a quantum leap in energy production and connectivity," Prime Minister Narendra Modi said, addressing a global conference, RE-Invest 2015, on Sunday.
READ MORE: 'Historic opportunity': Renewables start competing with fossil fuels
However, in spite of all the advantages of solar power use in the rural India, there are some critics due to low availability of land.
"I would love it to be lower," Energy Minister Piyush Goyal said last year. "But the ambitious plans India has to expand infrastructure, create jobs, improve the lives of people, get 24/7 power in every home, I think considering the huge magnitude of the demand shift, for renewables to meet this kind of demand will have serious challenges."
You can share this story on social media: