Massive protests in Turkey after student murdered & burnt in attempted rape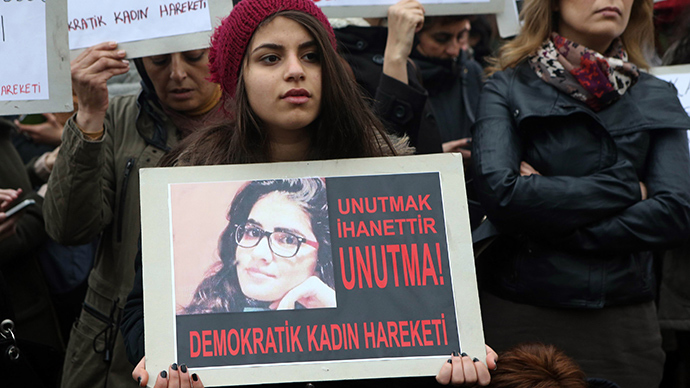 Hundreds took to the streets of Mersin, Turkey – the hometown of brutally murdered student Özgecan Aslan – to protest against her killing. Others joined in similar demonstrations in Ankara and Istanbul, according to local media.
Hundreds of women attended Aslan's funeral in her native town of Mersin on the country's southeastern coast. Many of them defied the imam conducting the funeral, after he called on them to stay in the back. Instead, they occupied the front. Women also carried the coffin before and after prayer.
Demonstrations were also held in Ankara and Istanbul, with protesters carrying photographs of Aslan and other female victims of violence.
Because grief knows no gender: Women defy imam in #ÖzgecanAslan's funeral, carry the coffin http://t.co/yilXSSZmDypic.twitter.com/D6glVwuuTo

— Caspar Schliephack (@SerioSito) February 14, 2015
Hundreds of women's rights activists chanted slogans in solidarity with Aslan in Istanbul's Taksim Square, such as "You will never walk alone!" They also demanded that Family and Social Policies Minister Aysenur Islam step down.
Aslan was last seen on a minibus by a school friend while traveling from home to college on February 11. The friend reportedly got off the bus before Aslan.
Women of Turkey take the streets to stop violence against women after murder of 20 yr old #ÖzgecanAslan#antireportpic.twitter.com/Bg2199vaL0

— U (@kinimatini) February 14, 2015
The private Dogan news agency reported that the driver of the minibus attempted to rape Aslan, and stabbed her to death after she resisted with pepper spray. He then sought the help of his father and a friend to get rid of the body, which they burnt.
Turkey: Outrage over Horrific Rape & Murder of 20yr-old University Student #ÖzgecanAslan - http://t.co/EwiXQsED7Bpic.twitter.com/X0gl6rOIvP

— Revolution News (@NewsRevo) February 14, 2015
Three suspects were arrested in Mersin province – where the murder took place – in a joint operation between the police and the gendarmerie late on Friday.
Aslan's mother Songul has demanded the death sentence for her daughter's killers.
"They should be executed, they should be tortured. Özgecan had a wonderful heart, she would work hard, help everyone. I cannot accept that she was massacred when she took a minibus to come home. Is my daughter's only mistake is to get on a minibus to come home?" she said, as quoted by Hurriet Daily News.
Women&men gather in Taksim to protest murder of 20 yr old #ÖzgecanAslan. She was stabbed, her body was burnt #Turkeypic.twitter.com/0wAY7olJ1r

— Selin Girit (@selingirit) February 14, 2015
The mayor of Mersin, Burhanettin Kocamaz, who attended Aslan's funeral, said that moral values in Turkey have deteriorated.
"We are living in a time when women are murdered every day. The whole society, most notably the leaders, should reconsider their stance," he said.
Women Protesters gather in Istanbul, Turkey to say "enough" to murders of women. #ÖzgecanAslan#Istanbulpic.twitter.com/KVCa2fDOla

— Anonymous Argentina (@AnonLegion_Arg) February 14, 2015
Five women are killed in Turkey every day, most of them by their husbands, according to Yasemin Yucel, the deputy chairwoman of the Tarsus branch of the Education Personnel Union.
Despite police intervention, women occupied Güven Park for #ÖzgecanAslan, many riot police pic.twitter.com/MHrlSzdqFlpic.twitter.com/IFTPnKvB5c

— Egypt Speaks (@egypt_speaks) February 14, 2015
Gulsum Sav from the We Will Stop Women Homicidies Platform said during the protests in Istanbul that authorities should toughen punishments for killing women.
"The killing of women is not a natural disaster. The politicians should condemn the killings, the punishments should be increased. These are not difficult things to do, but they have not done these for years," she said.
Kadikoy/Istanbul turk. women protests against the violence in the country against women after death of #ÖzgecanAslanpic.twitter.com/C0qabymZJG

— Nora (@Aviva___) February 14, 2015
You can share this story on social media: