Two Saudi women jailed for driving freed from prison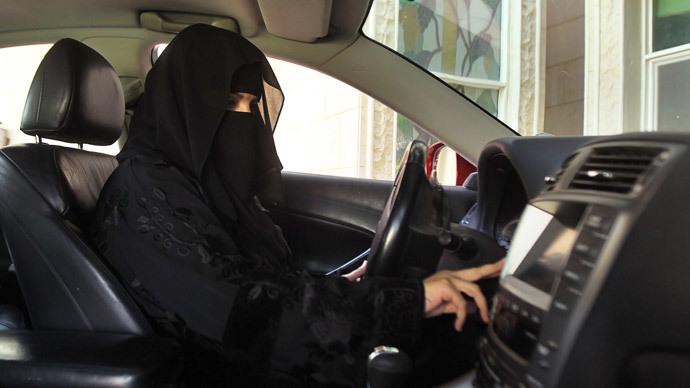 Saudi Arabia has released two women after 72 days behind bars. The women were arrested after challenging the ultra-conservative absolute monarchy's ban on female drivers in early December.
Loujain Hathloul and Maysaa Alamoudi were freed Thursday in Saudi Arabia's eastern Al Ahsa region. Both women posted messages on social media confirming their release.
25-year-old Hathloul confirmed on Twitter late Thursday that she had been freed, while Alamoudi, 33, posted a drawing of a girl releasing white doves in a field on Instagram with the caption, "Praise be to Allah, who thanks to Him graces last," her first post since the two women were detained and referred to a terrorist court in the Saudi capital Riyadh.
READ MORE: Saudi women may be allowed to drive
الحمدلله الذي بفضله تدوم النعم الحمدلله على كل حال

Фото опубликовано Maysaa (@maysaamoudi) Фев 12 2015 в 5:53 PST
السلام عليكم يا جماعة الخير ✋

— لجين هذلول الهذلول (@LoujainHathloul) February 12, 2015
Hathloul was arrested as she attempted to drive from the United Arab Emirates (UAE) into Saudi Arabia. Alamoudi, a television journalist, was detained soon after when she drove to scene of her friends' arrest to support her and report on the arrest.
Reports of their release have yet to be confirmed by the Saudi government, and activists campaigning against the driving ban have said on Twitter that it was not clear if the two women may still have to face trial or if the charges were now dropped.
During their two-month-plus imprisonment, supporters of the women signed an open letter urging their release, saying that they had been tricked into driving into Saudi territory by authorities at the border who misdirected them.
Hathloul's husband, Fahad Albutairi, a popular comedian, is also a vocal proponent of the overturning the driving ban. In 2013, he participated in the satirical viral video, "No Woman, No Drive" which has amassed over 12 million views to date.
Both women have driver's licenses valid in the UAE, where Alamoudi lives. The two women were supporters of a grassroots campaign to overturn the ban. Though there is no official law forbidding women from driving, women are not issued driving licenses and conservative Wahhabi clerics have issued religious edicts against it which police enforce.
In mid-December the Consultative Assembly or Shura Council, an advisory body to the Saudi monarchy, announced that it was ready to discuss a suspension of the ban in accordance with special regulations. The council recommended that women over 30, wearing no makeup be allowed to drive between 7am and 8pm, but no steps to implement any changes have yet been taken.
READ MORE: Anti-driving-ban activists in Saudi Arabia 'to face terrorism tribunal'
Earlier this week, during an appearance on a liberal talk show, a Saudi historian defended the driving ban as a way to protect women from rape. When a journalist pointed out that women drive in the US, Europe and other Arab countries during an interview with historian Saleh al-Sadoon, he replied, "They don't care if they are raped on a roadside, but we do."
You can share this story on social media: