Restrained optimism follows Minsk summit, new Russia sanctions off table?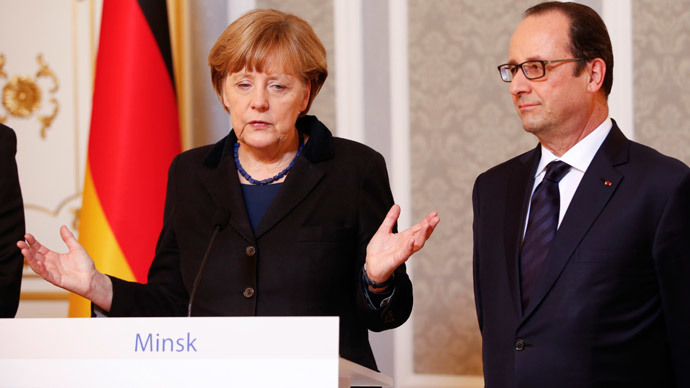 The ceasefire deal brokered by the so-called Normandy Four in Minsk has offered a "glimmer of hope" that the bloodshed in Ukraine can be halted and mend strained relations between Russia and the West.
READ MORE: Ukraine peace deal: Ceasefire starting February 15, removal of heavy weapons
The deal was reached following marathon overnight negotiations in the Belarusian capital, Minsk, which Russian President Vladimir Putin described as being "not the best night of my life."
Reactions to the ceasefire deal in eastern Ukraine, which will come into effect at 12am local time on February 15, were measured but hopeful.
READ MORE: The Minsk ceasefire deal, point by point
German Chancellor Angela Merkel's spokesman Steffen Seibert reflected this sentiment on Twitter after the deal was struck.
"After 17 hours, negotiations in Minsk have finished: ceasefire from Feb. 15 at zero hours, then withdrawal of heavy weapons. Therein lies hope," he tweeted.
FM #Steinmeier: Negotiations on #Ukraine crisis in #Minsk have been a difficult process. We hope that both sides have negotiated seriously.

— GermanForeignOffice (@GermanyDiplo) February 12, 2015
Merkel also credited Putin for "putting pressure" on rebels in eastern Ukraine to agree to the ceasefire in a conflict which has claimed more than 5,400 lives in under a year's time.
She further credited Ukrainian President Petro Poroshenko for doing "everything to achieve the possibility of an end to the bloodshed."
German Foreign Minister Frank-Walter Steinmeier responded in a similar vein, saying that while the summit was not exactly a breakthrough, it should "steer everyone away from the path of escalation" in Ukraine's eastern Donbass region.
"The most important thing is that Moscow and Kiev agreed on a ceasefire... we strengthened the Minsk accords of last September," Steinmeier said in a statement.
"For some this will not be enough. We also would have wished for more - but this is what the presidents of Ukraine and Russia could agree on."
French President François Hollande was more upbeat, calling the deal a "comprehensive political solution" which would engender "serious hope, even if everything is not done."
Merkel and Hollande depart Minsk peace talks http://t.co/dWrGNCbJgcpic.twitter.com/9n5FXDH96v

— Ruptly (@Ruptly) February 12, 2015
"All matters are addressed by this document," Hollande told journalists in regards to the agreement.
"The agreement regarding Ukraine in Minsk shows that we are on the right path," Hollande said.
He added, however, that there were no guarantees regarding the long-term success of the agreement. "The next few hours will be crucial for the agreement on Ukraine."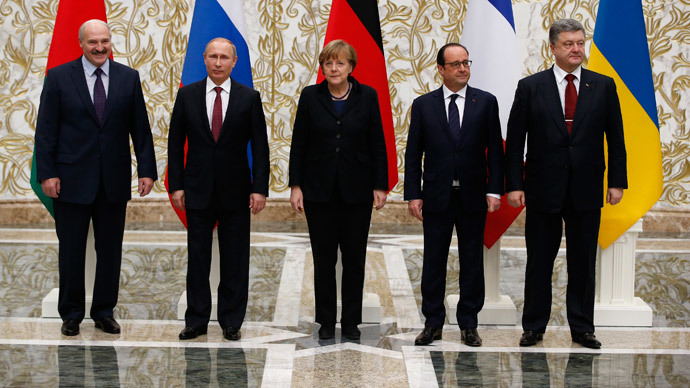 President of the European Council Donald Tusk also tweeted that Thursday's agreement "gives hope" in the run-up to an informal meeting of the members of the European Council on Thursday.
"Hope is important, essential, but not enough. Real test is respect of cease-fire on the ground Ukraine," he wrote.
He added that the situation in Ukraine and relations with Russia would be one of three major issues discussed at the meeting.
We'll discuss biggest challenges facing Europe now: restoring peace in #Ukraine, fighting #terrorism, improving #EMU. pic.twitter.com/fuUd6KQioo

— Donald Tusk (@eucopresident) February 12, 2015
Council of Europe Secretary-General Thorbjorn Jagland has voiced his positive impressions of the progress made in Minsk. He said in a statement that a concrete basis for implementing the ceasefire has been set up. He also expressed hope for the constitutional reform that is to follow, and that it would respect the sovereignty and territorial integrity of Ukraine.
President of the European Parliament Martin Schulz has also joined the chorus of those welcoming the signing of the ceasefire agreement in Minsk, though with the caution which has typified reaction to the deal.
"Welcome Hollande-Merkel brokered ceasefire agreement in Minsk on Ukraine. All sides must now abide by agreement, turn words into actions," he tweeted.
Welcome Hollande-Merkel brokered ceasefire agreement in #Minsk on #Ukraine. All sides must now abide by agreement, turn words into actions

— EP President (@EP_President) February 12, 2015
Sanctions off the table? Not yet
Finnish Prime Minister Alexander Stubb, who was not a party to the negotiations, cautiously offered his praise for the deal.
"The ceasefire is great news; however we should see how it will be implemented. People should no longer be killed; heavy weapons should be withdrawn," he said.
Speaking from Brussels, where an EU summit is set to be held on Thursday, Stubb offered hope that a thaw in relations with Moscow could be on the table.
According to Stubb, if Merkel and Hollande are satisfied with the outcome of the Minsk talks, the EU will not discuss further sanctions against Russia.
"If they say that the talks have failed, sanctions will ensue," he added.
READ MORE: 'Normandy 4' Ukraine peace talks in Minsk LIVE UPDATES
Vice-President of the EU Commission Federica Mogherini also said new sanctions against Russia were unlikely to be discussed at Thursday's meeting, which was postponed by several hours due to the Minsk talks.
Landed in Brussels. Looks like we are in for a long #euco. Beginning delayed for understandable reasons. #minsk#ukraine

— Alexander Stubb (@alexstubb) February 12, 2015
"I don't think today we will discuss sanctions," Mogherini told reporters. Rather, she said the talks would center on how "all possible EU means" can be activated to help sustain the ceasefire deal once it goes into effect.
British Prime Minister David Cameron maintained a tougher line, saying he welcomed the second Minsk agreement, but added "Putin has to know sanctions will remain in place without concrete progress on the ground."
Lithuania President, Dalia Grybauskaite, however, said that the issue of actually changing the current EU sanctions regime against the Russian Federation would not be discussed until March.
However, some representatives of the German business community consider the latest agreement to be a possible precursor for the lifting of sanctions on Russia. "The result achieved in Minsk could be a second step to opening the road to gradually lifting anti-Russian sanctions," Eckhard Cordes, Chairman of the Committee on Eastern European Economic Relations, told DPA.
Ceasefire - important, implementation – vital. #MinskSummit#Ukrainepic.twitter.com/2XGacWkl7j

— Dalia Grybauskaitė (@Grybauskaite_LT) February 12, 2015
A far more contentious issue on whether or not to send lethal defense arms to Kiev is also likely to be struck form the agenda in Brussels, Xavier Bettel, Prime Minister of Luxemburg, said.
Secretary General of the Organization for Security and Co-operation in Europe (OSCE), Lamberto Zannier, said the outcome of the meeting in Minsk was "important and necessary," adding that it would contribute to "stabilization and peace in Ukraine."
Speaking from the southeastern Ukrainian city of Dnepropetrovsk, he said that the outcome of the summit could have an impact on the current mandate and timeframe of the OSCE's current monitoring mission in the country.
You can share this story on social media: