​Polish farmers ride tractors to Warsaw, demand aid after Russian trade ban (VIDEO)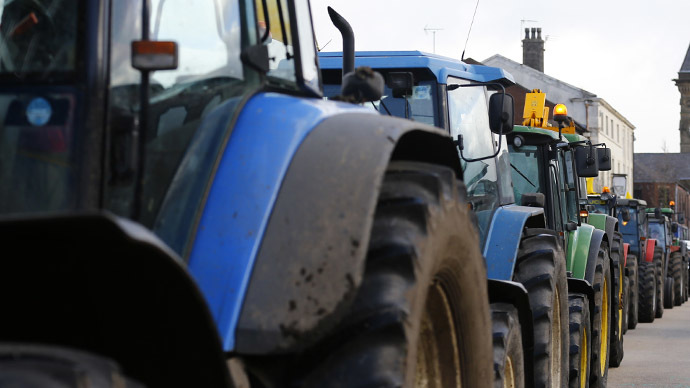 Hundreds of Polish farmers drove their tractors to Warsaw to protest against the poor financial assistance they have received in dealing with the aftermath of the Russian import ban that has crippled the Polish agricultural industry.
The farmers blocked major highways surrounding the capital on Wednesday. The demonstration was aimed at attracting the government's attention to problems in the agricultural sector, caused by the Russian embargo, as well as demanding compensation for crops destroyed by wild boars.
The farmers also demanded the government explain why it can supply a €100 million aid package to Ukraine, while Warsaw has failed to allocate lesser sums to compensate the farmers' losses, local media reported.
Polish Prime Minister Ewa Kopacz announced on January 19 during a visit to Ukraine that Warsaw is ready to provide Kiev credit assistance in the amount of €100 million for rebuilding the war-torn Donbass region.
Sławomir Izdebski, head of the agricultural wing of the All-Poland Alliance of Trade Unions (OPZZ), has said the ministry of agriculture has failed to take the farmers' losses seriously.
Tak wyglądał "marsz gwiaździsty" na Warszawę. Inaczej niż w obrazkach tv. pic.twitter.com/5EJgKru5IS

— Marek Sawicki (@SawickiMarek) February 11, 2015
"My first and foremost demand today is for the prime minister to reveal the source of the €100 million for Ukraine, when [the government cannot provide] even seven million złoty (€1.6 million)" to compensate for Polish farmers' destroyed crops, Izdebski said during a conference in February.
Moscow imposed a full ban of EU, US, Australian, Canadian, and Norwegian food exports to Russia on August 7 for one year in response to Western economic sanctions.
In September 2014, the European Commission suspended its aid to European farmers hit by the Russian import ban. EU members, particularly those close to Russia – including Poland – were most affected by the loss of the Russian market.
Of all the countries affected by the import ban, Poland has arguably reacted most vocally. Many Polish politicians and public figures have campaigned for a patriotic surge in domestic apple consumption, with the slogan: "Eat apples to spite Putin." Warsaw also sought emergency access to the American market, without much success.
You can share this story on social media: