​Say cheese! Hubble telescope captures extraterrestrial smiley face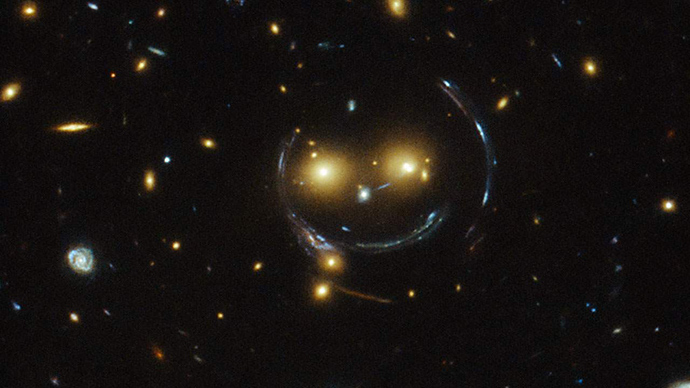 The heavens are smiling back at mankind through a star constellation discovered by the Hubble Space Telescope, which captured an image of a galaxy cluster that looks exactly like the smiley face we have all grown accustomed to in the internet age.
The galactic smiley can be seen in the photo of galaxy cluster SDSS J1038+4849. The picture was recently released by NASA after the cluster was spotted by amateur star gazer Judy Schmidt.
Its two bright glowing eyes are in fact separate galaxies, while the face and smile itself are distinct due to the celestial effect known as "strong gravitational lensing."
"Galaxy clusters are the most massive structures in the Universe and exert such a powerful gravitational pull that they warp the spacetime around them and act as cosmic lenses which can magnify, distort and bend the light behind them," the Hubble website explains, citing Einstein's theory of general relativity.
Hubble spots a galaxy smiling at us http://t.co/Gdo8XweHDo Credit: @NASA & @ESA Acknowledgement: Judy Schmidt http://t.co/GnZl3Jg204

— HUBBLE (@HUBBLE_space) February 9, 2015
The Einstein Ring is produced from the bending of light and is the result of an exact, symmetrical alignment of the source, lens, and observer.
The smiley picture is just one of thousands within the Hubble database that have now been made public. This particular image was discovered by Judy Smith, through the Hubble's 'Hidden Treasures' image processing competition.
Since 1990, Hubble has made more than a million observations. Some have been uploaded to spacetelescope.org for the public to browse, including a Top 100 list of the most breathtaking space shots.
You can share this story on social media: