​Gulf States accuse Yemen Houthis of staging coup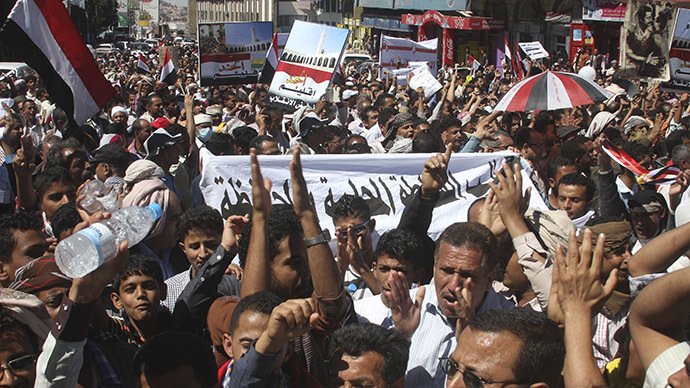 The Sunni Gulf Cooperation Council (GCC), made up of oil-rich Persian Gulf countries, has blasted the Shiite Houthi rebels for "staging a coup" in Yemen after they announced on Friday they were dissolving parliament and forming a new government.
The opposition of the GCC reflects the increasing hostility of the mostly Sunni countries to the Iranian-backed Houthi rebels, who are Shia.
"This Houthis coup is a dangerous escalation which we reject and is unacceptable. It totally contradicts the spirit of pluralism and coexistence which Yemen has known," the GCC said in statement according to the Kuna news agency.
READ MORE: Gulf states denounce rebel 'coup' in Yemen
The leader of the Houthis refuted the accusation and said on Saturday that Yemen is open to all parties playing a role in the country's future.

"Our hand is extended to every political force in this country ... the space is open for partnership, cooperation and brotherhood and now everybody bears their responsibility for building, not destruction," Abdel Malik al-Houthi said in a televised speech.
Houthi leader Abdel Malik al-Houthi speaking live on #Yemen TV after taking control of the presidential palace pic.twitter.com/IyohzYi153

— Grasswire (@grasswire) January 20, 2015
The Houthis say they have stepped into a power vacuum and they intend to replace the dissolved parliament with a 551-member national assembly. It would then elect a five-member presidential council, which would run the country for up to two years.
#Houthis stormed in the office of Ahmed Bin Mubarak, Chief of Staff of President, and appointed a loyalist in his place. #Yemen#HouthiMess

— Yemen Updates (@yemen_updates) February 8, 2015
But opposition parties in Yemen have so far declined to support the Houthis. Thousands of people also protested in three cities in central Yemen against the seizing of power by the group.

Both the prime minister and the president resigned last month after the Houthi rebels took over the presidential palace, leaving the turbulent country in political limbo.
READ MORE: Yemeni president resigns after standoff with Shia rebels
Ali Abdullah Saleh, the former ruling party of the ex-president, said in a statement that it regretted the Houthis' moves.

Several governors of Yemen's restive regions in the south of the country also said in a joint statement that they rejected the takeover.

The Islah Sunni Islamists, Yemen's main opposition party, said the Houthi rebels had staged a coup and that they should be annulled.

Tensions were high across Yemen on Saturday, with armed Houthis manning checkpoints. A bomb exploded in Sanaa at the home of the deposed prime minister, wounding three militiamen.

No one has yet claimed responsibility but suspicion has fallen on Al-Qaeda in the Arabian Peninsula (AQAP) who have clashed repeatedly with the Shia group, raising the possibility of a sectarian civil war.
You can share this story on social media: