ISIS cleric opposed to immolating Jordanian pilot faces trial - report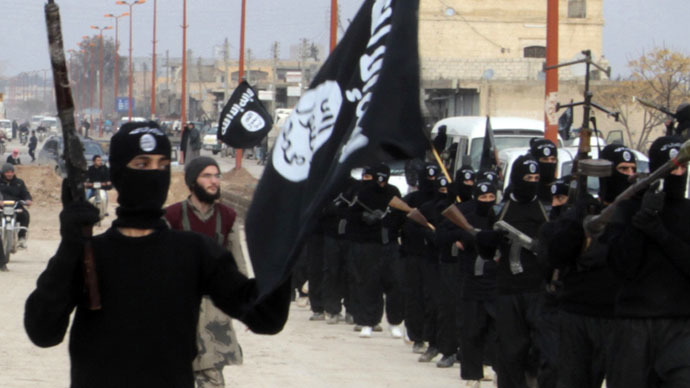 An Islamic State cleric who objected to the terror group's decision to burn a captured Jordanian pilot to death has been removed from his position. The Saudi national is also facing trial according to the Syrian Observatory for Human Rights.
The cleric had voiced his objections during a meeting with Islamic State (IS) clerics in the Syrian town of al-Bab, located in the Aleppo province. He was relieved of his position within the organization and was put on trial, said the head of the Syrian Observatory for Human Rights (SOHR), Rami Abdulrahman, Reuters reports.
A post on the SOHR's website said the cleric had been 'isolated.'
The Saudi national had said those who were responsible for burning Mouath al-Kasaesbeh alive in a cage should face trial themselves. The gruesome killing brought condemnation from large parts of the Muslim world, with some Al-Qaeda figures denouncing it as un-Islamic.
READ MORE: 'Crucify them!' Muslim leaders condemn ISIS execution of Jordanian pilot
IS had proclaimed on Twitter that it was permissible in Islam to burn an infidel to death. However, this viewpoint has not been shared with other Muslim clerics, who say that it is forbidden to kill someone in such a way.
Meanwhile, Jordan has promised to strike IS with "everything we have," sending dozens of fighter jets to target the militant group's positions in retaliation to the brutal murder of a captured Jordanian pilot.
READ MORE: 'Just the beginning': Jordan sends dozens of fighter jets to strike ISIS in Syria
"This is just a beginning...tens of...fighter jets have struck their hideouts," the country's army said in a statement.
Jordan also responded by hanging two Al-Qaeda prisoners early Wednesday morning, hours after the video of al-Kasaebeh's execution video was released.
Earlier, Amman had promised to trade one of the prisoners, Sajida al-Rishawi, who had been sentenced to death for her role in a hotel bombing which killed sixty, in exchange for the pilot and a Japanese hostage, Kenji Goto. However, the deal was repeatedly put on hold as the Islamic State refused to provide proof that the pilot was still alive.
You can share this story on social media: