You shall not pass! 1-meter-high 'anti-burglar' wall raises eyebrows in French town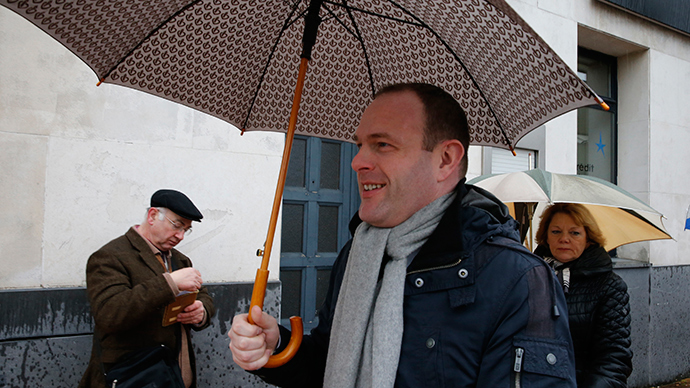 A mayor of a northern French town has taken a rather bizarre measure against burglars by erecting an "impassable" stone wall across one of its streets. The 1-meter tall structure caused puzzled locals to sign a petition against the drastic action.
The construction in the northern French commune of Hénin-Beaumont in the Pas-de-Calais department basically just blocks traffic. It was introduced by the town's mayor Steeve Briois who belongs to the National Front party, La Voix du Nord newspaper reported on Wednesday.
"It is simple urban planning that has been approved by 70–80 percent of the population in the neighborhood," the town council stated, as cited by Le Figaro newspaper.
A Hénin-Beaumont, les avis sont partagés sur le mur construit pour décourager les voleurs http://t.co/tjbiH4mMsHpic.twitter.com/wjFXWRYLFj

— La Voix du Nord web (@lavoixdunord) February 4, 2015
Defending the wall, Briois wrote in his blog: "The decision was made after two burglars stabbed a man in his home – including once in the head. Two hundred residents then met to find an urgent solution to this intolerable situation."
According to the mayor, "the safety of my fellow citizens is a priority (...) and I won't give up."
However, many locals are far from satisfied with the initiative as they now have to make lengthy detours to get around the area. A woman, whose sister now lives "behind the wall," told La Voix du Nord that "for the time being, it takes me ten minutes instead of one to fetch her children."
Another woman told Le Figaro newspaper: "Today, my husband had to take an eight-kilometer detour just to get to work," adding that she didn't consider a "very unattractive" wall in the street to be "a real solution."
Local residents have created their own petition to take down the wall.
Bruno Bilde, adviser to Marine Le Pen, the leader of the National Front, promised that in six months the decision would be voted on again. "And this time, I think that 90 percent of the population will ask not to remove the wall."
You can share this story on social media: