Tires on fire: Nationalist battalion fighters protest 'disbanding' in Kiev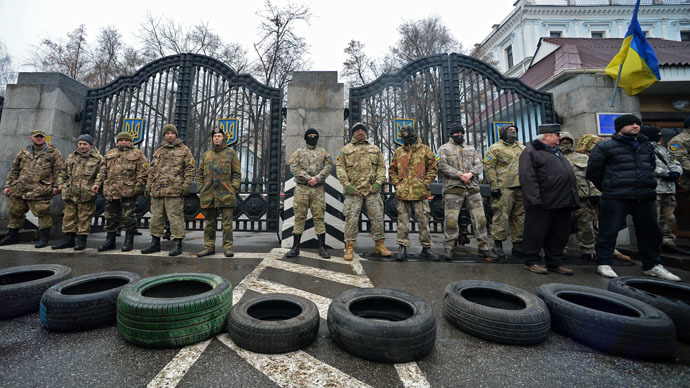 Camouflaged figures barricaded the Defense Ministry building in the Ukrainian capital after the government issued an order to formally disband Aidar, a volunteer unit accused of human rights violations in eastern Ukraine.
Dozens of picketers stopped a passenger trolleybus, using it to block the official entrance. They then piled up tires outside and began to beat army drums, demanding an audience from ministry officials.
Protest in #Kiev: Aidar battalion blocked the street in front of the Ministry of Defense and are burning tires. pic.twitter.com/XkUsjSnYVk

— Yury Barmin (@yurybarmin) February 2, 2015
МО. Вітер як завжди в бік нечисті. Не дамо зрадити Айдар. Вони гинуть за Щастя. Не віддамо його Ахметову. pic.twitter.com/PVQbTpW2zj

— Автомайдан (@Automaidan) February 2, 2015
When the request was ignored, demonstrators set fire to the tires, before taking down the Ukrainian flag mounted on the entrance. As the fire petered out, the demonstrators, matched in numbers by onlookers and media, gradually dispersed.
Бійці батальйону "Айдар" та родичі бійців 25-батальйону мітингують під Мінобороною. pic.twitter.com/OlLNPnt6wq

— Ali Salyar (@Ali_Salyar) February 2, 2015
This is the second violent protest in three days, following a government order to "re-register" the controversial battalion as another entity.
An order was issued by the Ukrainian authorities to officially disband the battalion, which numbers about 400 fighters, on January 29.
This provoked anger from its former leader and current Rada MP Sergey Melnichuk, who called for protest. Meanwhile, a Yulia Evdokimova, who claimed to be the press secretary of the unit, claimed that its leaders were being "purged" - sparking the initial demonstration on Saturday.
The government quickly responded, accusing the demonstrators of "betrayal" and saying that the disbanding will not affect any of the ordinary fighters. Instead, officials alleged that the official seal belonging to the unit had been misappropriated, and the measure was aimed at "preventing abuse of power."
Both sides have appealed to the main body of volunteers, who are deployed in intense firefights with militants in the Lugansk Region. Various videos have appeared in YouTube, with purported combatants either claiming loyalty to Kiev or alleging they have been "abandoned." There have also been unconfirmed allegations of recent betrayals from senior commanders, who may have sold information about the location of their own, and other pro-government units.
In September, Amnesty International accused Aidar of "widespread abuses, including abductions, unlawful detention, ill-treatment, theft, extortion, and possible executions." The claims have been echoed by Human Rights Watch and the OSCE mission in the region.
Officials in Kiev, who initially trumpeted the successes of paramilitaries as symbols of Ukraine's patriotism, have recently become more wary, handing over important missions to official units, where possible. Kiev's Chief Prosecutor Sergey Yuldashev went as far as labeling them "a major threat," capable of overthrowing the new government.
You can share this story on social media: