Iraqi artist fights 'ugly ISIS' with shoes & trash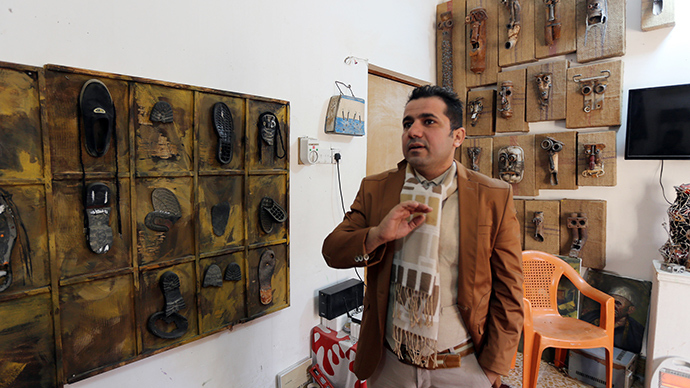 An Iraqi artist has decided to show the world the "ugliness" of the Islamic State and its cause. Having gathered a bunch of worn-out boots and accessories, the artist has turned them into a series of "shoe faces" which mock and embarrass ISIS fighters.
For Iraqi artist Akeel Khreef Warn, worn-out shoe soles serve as the basis for creating the "ugly faces of ISIS."
Dangling zippers serve as teeth for the face of ISIS crime, while old shoelaces are used to show black headscarves and long hair. Bulging eyes made out of metal pieces represent the jihadists' thirst for blood.
The 35-year-old architectural engineering professor, who is working on a mural of two dozen shoe faces, told AFP that his work is meant to represent the "extent of the criminality and ugliness and ugly acts of the organization's members."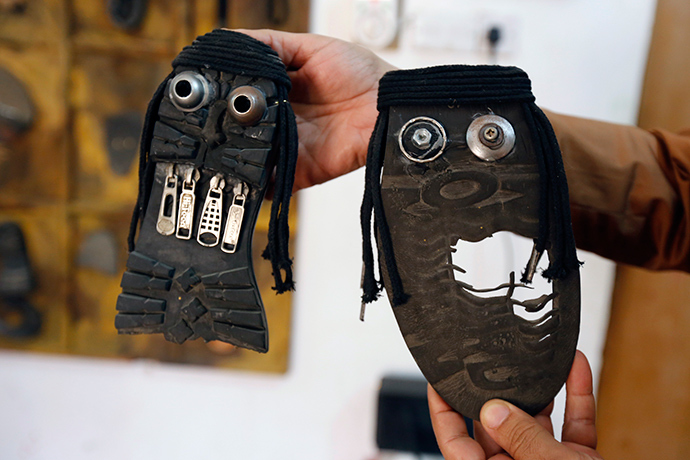 When "you look at the works, you see they are made from remains of waste and worn-out shoes, but they appear sick in their mentalities, and bloodthirsty," Khreef said.
The meaning behind the art is quite clear in a country where "waja al-kundara" – "face of the shoe" – is believed to be the most vulgar disrespect of them all. In Middle Eastern culture, it is deemed offensive to even have the bottom of one's shoes facing another person.
"This is what I want to say," Khreef explained.
He created the artwork to portray the "ugly condition" that Iraq and Syria have suffered at the hands of ISIS since their rapid advance began in June.
Khreef said his message is quite clear: "I will not get them out of my country with this work, but...I am certain they would be embarrassed by it."
"Death is everywhere, and I am not more important than someone who defends his country and carries a weapon and goes to confront the enemy face to face," he said. "And if the worst happens at least I would die believing in a true cause."
You can share this story on social media: