Boko Haram to use cows, goats and cobblers to stage attacks – Nigerian govt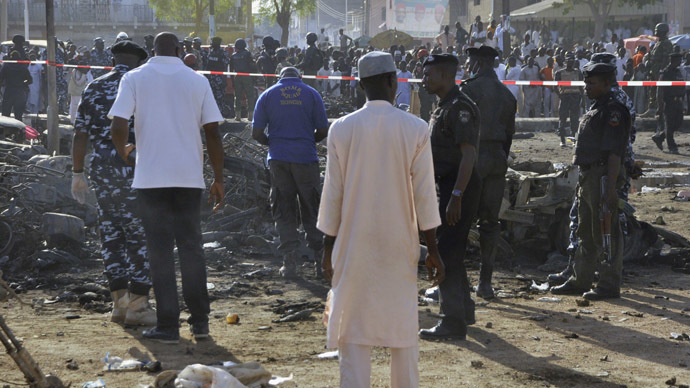 Boko Haram insurgents plan to use goats and cows as bomb couriers to carry out deadly attacks, in addition to a new batch of disguised suicide bombers, a spokesperson for the Nigerian federal government warned.
"There is indication of a plan by this group to use livestock such as goats, cow, donkeys and camels laden with explosives to attack chosen targets," the coordinator of the National Information Center Mike Omeri said during a press briefing on Thursday.
Omeri cautioned owners of livestock against taking their animals into city centers in order to avoid being mistaken for militant operatives.
"Persons who rear goats and cows in the center are advised in their own interest to restrict such movements because actions could be taken, and nobody should blame the police and other security agencies for taking the necessary steps," he said.
Reports of seized livestock had surfaced earlier this week when Nigerian press reported that the militants used more than 5,000 cows as a shield during clashes with federal troops in Monguno last Sunday.
"They hide themselves behind the cows and were advancing towards us. All our gun shots were hitting the cows," a soldier who wished to remain anonymous told Nigeria's The Nation.
The intelligence coordinator also suggested that the extremist Sunni group intends to use suicide bombers dressed as cobblers hiding explosives in their toolboxes and striking busy areas.
"Available intelligence reports indicate a plan by Boko Haram to use young male suicide bombers disguised as cobblers to hide explosives in their toolboxes and detonate them in soft areas such as markets, restaurants, ATM locations, political rallies, worship centers as well as other public places."
Omeri advised Nigerians to be vigilant and report any suspicious activity to the police.
Some 1.6 million Nigerians have been displaced, and thousands have been killed as a result of Boko Haram's deadly attacks. Earlier this month the group, which purports to have links to al-Qaeda, massacred more than 2,000 people in the northeastern town of Baga.
READ MORE: 2,000 killed in Nigeria': Boko Haram's latest attack deadliest yet, Amnesty says
You can share this story on social media: