Ferrari unveils sleek new F1 'red machine,' hopes to regain title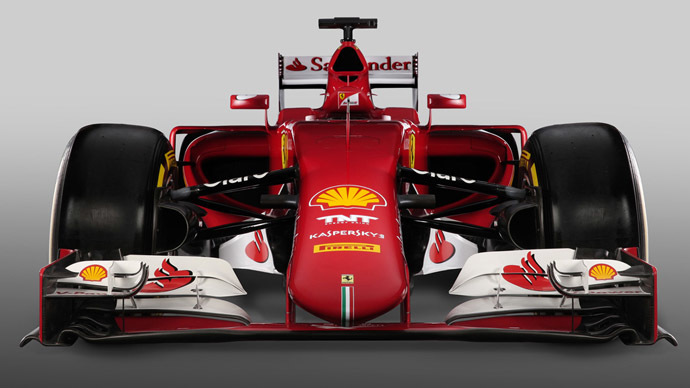 World-famous luxury carmaker Ferrari has unveiled a new model – but one won't find on any highway. It's been designed to try and get their Formula 1 team back on top after a disappointing 2014.
Ferrari and motor racing are so intertwined, it's difficult to imagine one without the other. The distinctive red machine has faltered of late though. The Italian motor company may have won Formula 1's constructors championship for the best car a record 16 times, but their last top of the podium finish came in 2008. Last season, the team based in Maranello could only finish a disappointing fourth.
The new SF15-T car features a new engine and has been given a new nose cone to try and make it faster with the aim of challenging last season's winners, Mercedes. It was designed by James Allison and the car will get its first official outing on Sunday at the Jerez circuit on Sunday.
#Ferrari premiere: discover the #SF15T now. Photos, videos at http://t.co/myYiWQoFN1#RedRev2015pic.twitter.com/MLbdfcRWvu

— Scuderia Ferrari (@ScuderiaFerrari) January 30, 2015
Sebastian Vettel, who joined Ferrari from Red Bull, said: "Obviously there is a change in color for me so it's a new experience but I think the car looks beautiful," the four-time world champion commented on Ferrari's official website.
"I'm confident that we are going in the right direction but I think it would be wrong to immediately expect a lot of us."
Meanwhile, the new head of Ferrari, Maurizio Arrivabene, who replaced Marco Mattiacci in November, was very impressed with the new design.
"Enzo Ferrari said a long time ago that the best car is a winning car. Last year we had an ugly car that was a non-winning car. I like this year's car... I don't know about the performance, but it's really sexy," the Press Association quoted him as saying.
The new Formula-1 season gets under way on March 15 with the Australian Grand Prix.
You can share this story on social media: