​Rome's Jewish reps locked inside Auschwitz camp, detained after escape attempt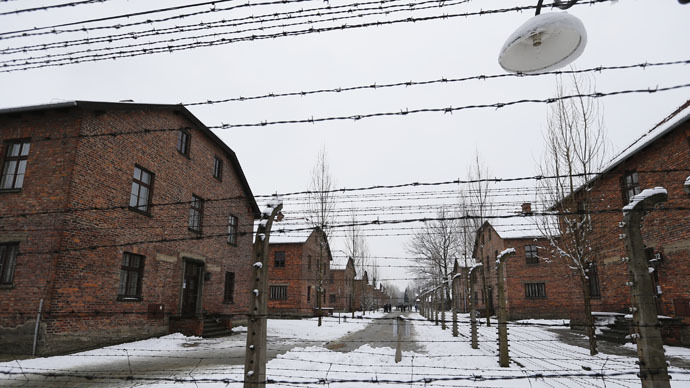 The head of Rome's Jewish community – a descendant of Holocaust victims – and a TV crew were accidentally locked inside the Auschwitz death camp while filming a show for Remembrance Day. They were then detained and held overnight after trying to escape.
Riccardo Pacifici called the actions of Polish authorities "a disgrace" on Twitter, after he and four members of an Italian film crew were questioned by police for most of the night on International Holocaust Remembrance Day.
The incident happened after the crew did a live show of "Matrix" – an Italian television talk show – at around 11 p.m., following a ceremony commemorating the liberation of Auschwitz.
After the show ended, the crew noticed that all the employees of the former death camp had left the premises, locking the TV team inside. With temperatures dropping below 9 degrees Celsius, and somehow unable to reach anyone for help, they apparently tried to escape through a box office window.
Siamo stati sequestrati da un ora dalla polizia polacca dentro Auschwitz dopo trasmissione di Matrix. Una vergogna

— Riccardo Pacifici (@riccardpacifici) January 27, 2015
That triggered the alarm and several Polish police officers arrived at the scene, arresting the Italians. As the incident unfolded, Pacifici managed to tweet, saying: "We have been held by Polish police for an hour inside Auschwitz after filming Matrix. A disgrace."
The interrogation on the grounds of Auschwitz lasted until 2:30 a.m. The crew was later transferred to the police station outside the camp, where they were questioned for another three hours.
"They arrested us and treated us roughly as though we were criminals," Fabio Perugia – a spokesman for Rome's Jewish community, who was among the five people questioned – told Haaretz. "More and more police were summoned until there were some 12 officers who held us in the camp."
Language barriers prevented the team from explaining the situation and how they eventually got locked down at the secure premises. The men were released at 6 a.m. after an interpreter was called in. The Italian Foreign Ministry and Italian Embassy in Warsaw also intervened.
Leader Of Rome's Jewish Community Riccardo Pacifici Locked In At Auschwitz And Arrested http://t.co/W6ViYLv1KEpic.twitter.com/Fnioqcvr8H

— ...david jones (@_dpaj) January 29, 2015
"I'm astounded," Pacifici said before his departure back to Rome. "They interrogated us until six in the morning – two Jews who had been locked inside the Auschwitz camp, where I lost some of my family," he told Italian newspaper La Stampa. "My grandparents died here. It's a shock. Our only crime was that we tried to get out through the window."
To save face from further diplomatic embarrassment, the Polish embassy in Rome issued a statement explaining that the presence of "more than 50 delegations, including heads of state and heads of government" led to "dramatically enhanced security measures."
Therefore "any non-standard behavior," such as climbing through the box office window, led to an "appropriate law enforcement response."
The men were detained "only by the desire to ensure order and security on this special place and date," the embassy said, calling the incident "regrettable."
You can share this story on social media: