'You will discover hell on earth': French govt launches campaign against jihadists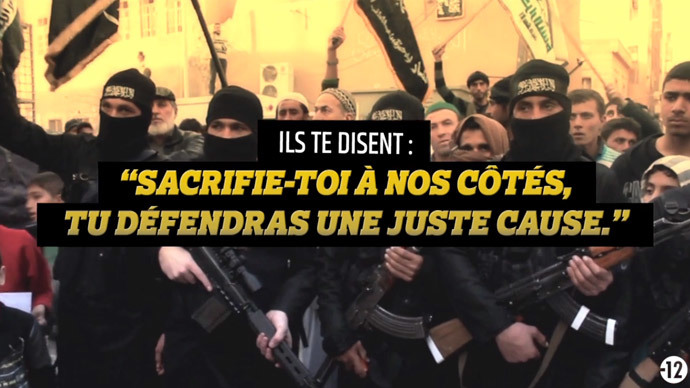 The French government has released a graphic video that "deciphers jihadist propaganda" in order to discourage young people from going to the Middle East to fight alongside extremists by saying they will find "hell on earth."
The video with the hashtag #StopJihadism was published in a bid to counter calls to join extremist groups in the Middle East, including the Islamic State militants who are rampaging through parts of Syria and Iraq.
The beginning of the video shows popular jihadist groups on social media and an anonymous invite to join the terrorists saying "the truth is out there and now is the time to go... if you want more info just give me your number..."
It then goes on to explain the difference between what the jihadists say about joining them and what the reality is."They told you: "Sacrifice yourself by our side for a just cause," the message in French says. "In reality, you'll find hell on earth and you'll die alone, far from home." The text is accompanied by footage of people killed and their bodies dumped.
READ MORE: 24 reasons ISIS are wrong: Muslim scholars blast Islamic State
"They tell you: Come and start a family with one of our heroes," while the government says that actually: "You'll bring your children up in the midst of war and in terror."
The video shows the suffering of women and children in the war-torn region accompanied by the government's message warning that those who join militants become "accomplices to massacre."
#StopDjihadisme: contre le djihadisme, tous vigilants et tous acteurs >> http://t.co/zBWgAj3W6P

— Gouvernement (@gouvernementFR) January 28, 2015
In the framework of the campaign the French government also established an anti-terror hotline.
The launch of the anti-terror website follows a statement by Prime Minister Manuel Valls last week announcing a new series of measures aimed at preventing further terror attacks.
Présentation à l'ensemble du cabinet du Premier ministre du site et de la vidéo #StopDjihadisme

Une photo publiée par Gouvernement (@gouvernementfr) le 28 Janv. 2015 à 2h26 PST
The €425 million anti-terror plan includes nearly 2,800 jobs to monitor 3,000 potentially dangerous individuals in France, according to Valls.
"The number of radicals in the country is constantly growing. French intelligence needs to conduct surveillance on over 3,000 radical Islamists. In particular, 450 people who have previously participated in fighting in Pakistan, Afghanistan and Yemen, and at the moment are taking part in sending volunteers to Syria and Iraq - they account for about 1,300 people," Valls said last Wednesday .
He also referred to the so-called "cyber patrols" that will monitor social media sites stressing that "terrorists often use the same social networks as everyone else."
READ MORE: €425mn anti-terror plan: France to hire thousands of extra police, spies & investigators
You can share this story on social media: