Artist pulls prayer rug installation from French exhibition after Muslim warnings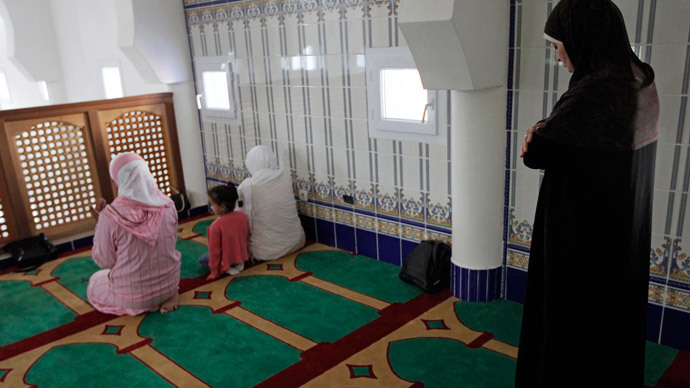 An installation featuring Islamic prayer rugs stacked with high heels has been withdrawn from an art exhibition near Paris after a Muslim group warned that the piece could provoke an "uncontrollable" reaction.
The piece, "Silence," was to be displayed in a woman-themed exhibition in the town of Clichy, just north of the capital. French-Algerian artist Zoulikha Bouabdellah decided to withdraw the installation hours before the opening.
Last week a local Muslim group told the Clichy town hall that the artwork, which has been displayed in Paris, Berlin, and New York since 2008, might result in "uncontrollable, irresponsible incidents."
#ZoulikhaBouabdellah. Silence. pic.twitter.com/EtP6HZ0DR0

— AAFRICO (@iam_igna) April 24, 2014
According to a placard signed by both Bouabdellah and Christine Ollier, one of the show's curators, the piece was pulled to "avoid all controversy and repercussions that might result from the presentation of the installation which in itself is not in any way blasphemous."
Bouabdellah said that her work was not intended to "shock or provoke, but rather to create an image that would spur a dialogue" about issues of identity, womanhood and Islam.
After the devastating terrorist attacks that left 17 dead in France earlier this month, the country has been grappling with long-brewing tension created by what Prime Minister Manuel Valls called "social and ethnic apartheid."
READ MORE: 'Social and ethnic apartheid' plagues France - Prime Minister
In an open letter, Bouabdellah wrote: "I put this misunderstanding of the work down to the highly charged emotional atmosphere after the recent events in Paris and I do not wish [it] to be used as an excuse to further nourish confusion and distress."
A Clichy, l'exposition "Femina" doit meubler le "Silence" de Zoulikha Bouabdellah http://t.co/FU725fXoTipic.twitter.com/xOsjfbb9PJ

— lucileee* (@questcequelart) January 27, 2015
The artist decided to replace the work with a video project, "Dansons," in which she belly dances to the French national anthem.
Conceptual artist ORLAN, another one of the twenty women whose work was featured in the show, condemned Bouabdellah's decision as an "act of self-censorship," and pulled her own work in protest.
"I protest against all pressures and/or threats that would result in a peaceful art work being pulled from an exhibition, be it due to a Christian group, a Muslim group, or a group of other beliefs," she wrote in an open letter posted to Facebook.
"It opens up doors to all sorts of insidious restrictions on our freedom of speech, risking that we consciously or unconsciously move from self-censorship to prevention, from prevention to inhibition created by threat and fear," she wrote.
The exhibition's organizers have requested that Clichy Mayor Gilles Catoire either publicly support "Silence" or shut down the exhibition.
You can share this story on social media: