Massive truck plows through 15 vehicles in Russia after apparent brakes failure (VIDEO)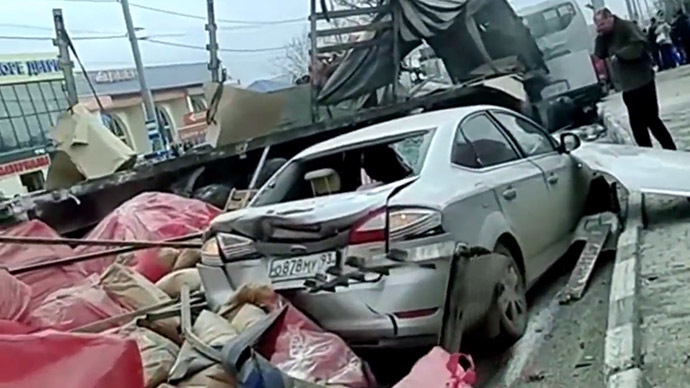 A fully-loaded lorry with suspected brakes failure rammed into a pack of vehicles on a busy street in southern Russia, killing one person and injuring eight others.
A series of dashcam videos uploaded to YouTube show the truck approaching the town of Tsemdolina – located just outside the port of Novorossiysk, in Russia's Krasnodar region – at full speed from several miles away, after 1 p.m. local time on Monday.
The truck veers onto the median line to avoid the busy traffic going in both directions, and the gasps from motorists are almost audible, as the multi-ton vehicle misses them by inches.
Just outside Tsemdolina, population 11,000, the truck appears to lightly clip a cement mixer, before speeding out of shot. The video shows that the side of the cabin is almost destroyed by the impact.
The rest can only be judged from the gnarled remains present at the crash site, and a report from local police.
The runaway Scania hit the busiest point in the entire town – the bus stop, where it impacted a mid-size passenger bus, which in turn climbed onto an ancient Lada, stamping it into the ground, and killing the passenger inside.
Two more buses and nearly a dozen cars were also affected by the impact.
The cabin of the Scania appears almost entirely mangled, but the driver and owner of the truck, a resident of nearby Astrakhan region, was sufficiently well to be taken away and interviewed by the police.
#Новороссийскpic.twitter.com/dBVgaYSfpK

— Shvedova Elena (@eshvedova2012) January 27, 2015
"It was a lucky coincidence that there was no one in the buses at the time, or the death toll could have been much higher," said regional police spokeswoman Maria Pirogova.
Most of the victims are being treated in a local hospital. Those more seriously injured have been transported to Krasnodar.
READ MORE: 6 killed as Glasgow garbage truck mounts pavement
More than 27,000 Russians died on the road in 2013, the last full year for which data is available. This is just over the amount of deaths in the entire EU, which has more than three times the population.
You can share this story on social media: