Bank manager kills 3 workers & himself 'after staff reshuffle'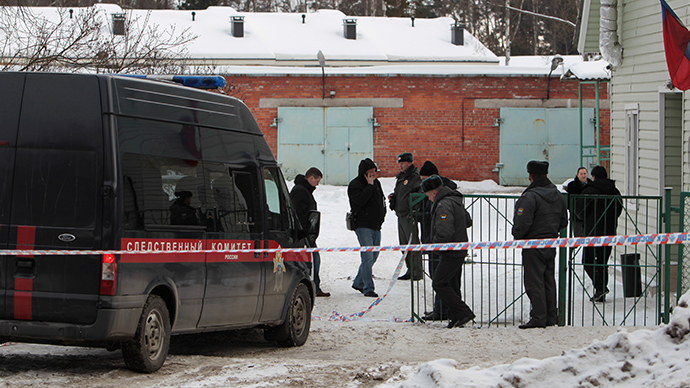 The deputy head of the Russian Central Bank in a Far-Eastern city has killed three of his colleagues and committed suicide after he was reportedly fired. Sources claim the murders could be connected with a reshuffle of bank staff.
The deaths occurred in the city of Blagoveshchensk, in Russia's Far East Amur Region.
A team of investigators is working at the scene of the incident, said Aleksey Lubinsky, an official with the federal Investigative Committee in the Amur Region.
Lubinsky said that the investigators "found two bodies on the first floor of the building in the chief's office, and one more body was located on the ground floor."
"The shooter committed suicide," he added. "According to preliminary data, the attacker decided to commit murder and kill themselves due to problems at work."
The female victims worked as a deputy head of department and as head of a bank branch, while the man was head of bank management.
Investigators have found a Saiga gun, which might have been the murder weapon, a source told RIA Novosti, adding that experts are trying to determine how exactly the weapon was smuggled into a well-protected building.
The Central Bank of Russia views the incident as a "terrible tragedy," Georgy Luntovsky, first deputy chief of the bank, told Tass news agency.
"We regard the event in Blagoveshchensk as a terrible tragedy," he said. "Now employees from law enforcement agencies are working at the scene of the incident, and they will find out all the circumstances of what has happened."
Luntovsky expressed his condolences to the families of the victims, and promised to help them.
Employees who managed to get out of the bank an hour after the shooting expressed their shock.
"[The shooter] was fired day before," a bank employee told Komsomolskaya Pravda. "We have reorganization [in the bank], we are having our staff reduced. And the guy has a paralyzed child and a non-working wife… Where did he take the rifle from? He killed people and then blew himself up with a grenade. This is horrible."
A law enforcement source confirmed to RIA Novosti that the bank employee committed suicide using an explosive device.
"Preliminary investigation shows that the man was killed from an explosive device," said the source, adding that the authorities are investigating the type of the device.
You can share this story on social media: