Kiev takes path of war, selective approach to condemning civilian deaths – Churkin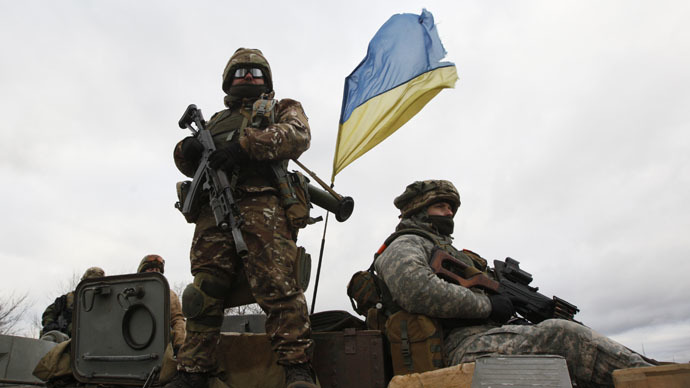 Ukrainian authorities are not making any efforts to hold a national dialogue, and are instead opting for military pressure and the isolation of eastern regions, Russia's UN envoy said, accusing Kiev of being selective over which civilian deaths to mourn.
"This whole time Kiev was preparing for war. And they didn't even hide it," Vitaly Churkin told the UN Security Council on Monday. Since September, while evading any direct dialogue on the implementation of the Minsk agreement, Kiev has been strengthening its military positions in southeastern Ukraine.
"Along the frontline they deployed forces and equipment, including heavy weaponry; new mobilizations were announced, they put in new orders to military factories. At the same time, instead of measures for the economic reconstruction of Donbass, a policy of suppressing the uncontrolled region has been conducted," Churkin said.
READ MORE: Ukraine army is NATO legion aimed at restraining Russia - Putin
In his speech, Churkin repeated Moscow's call for Western partners – especially Washington – to "stop egging on the Ukrainian hawks and covering their inhuman deeds."
"The only thing that will lead to is an even greater catastrophe," Churkin warned.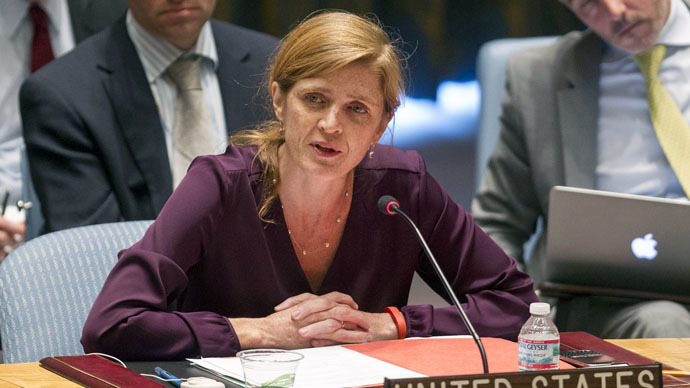 READ MORE: US plays 'instigator's role' in Ukraine crisis – Russian UN envoy
Meanwhile, US Ambassador to the United Nations Samantha Power accused Moscow of plotting to annex neighboring Ukraine.
"Russia's end goal remains...to seize more territory and move the line of Russian-controlled territory deeper and deeper into Ukraine," she said.
"This offensive is made in Moscow," Power added. "It is waged by Russian-trained and Russian-funded separatists, who use Russian missiles and Russian tanks, who are backed up by Russian troops."
British Ambassador Mark Grant took the anti-Russian rhetoric a bit further, accusing Moscow of transferring weapons to rebels in the east of Ukraine.
In last few weeks #Russia has transferred to separatists 100s of weapons inc heavy artillery, tanks & armoured vehicles-@LyallGrant#Ukraine

— UKUN_NewYork (@UKUN_NewYork) January 26, 2015
Churkin however, pointed out that Kiev has not made "a single step" towards constitutional reforms or an inclusive national dialogue with representatives of the rebel regions. Instead, Kiev has "chosen [the] course of suppressing the southeast of Ukraine with military means."
"Apparently, peace in Donbass is not in [the] interest of Kiev's 'party of war' in the first place," according to Churkin, as representatives from Kiev did not attend the Minsk contact group meeting on January 16.
"Official Kiev is sabotaging another meeting of the contact group in Minsk, laying ungrounded claims to the level of representation of [Donbass] militias. The most important thing now is holding this meeting, not arguing about the level of representation."
At the same time, Churkin assured that Russia is compliant with the Minsk agreement to settle the Ukraine crisis. "We are in contact with the sides, the leadership of Ukraine, and the rebels and representatives of interested countries, including in the Normandy format," Churkin said.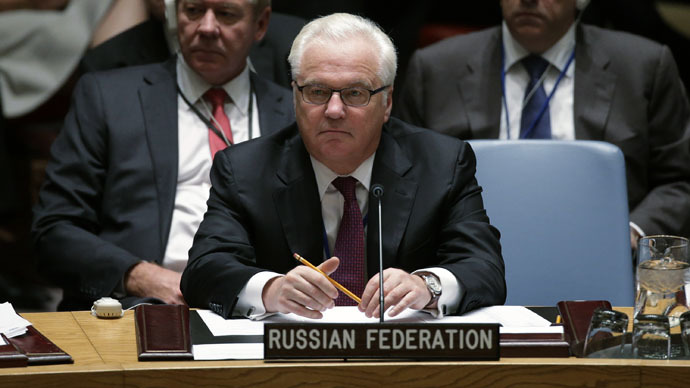 The Russian envoy reminded the 15-nation Security Council of the hundreds of deaths that have occurred as a result of the Ukrainian military's "indiscriminate shelling" of civilian areas.
READ MORE: Kiev introduces state of emergency in Donbass, high alert across Ukraine
Over the last week, over 100 people have been killed in the town of Gorlovka alone, and the Western media chose to ignore it, the Ambassador said, instead selectively focusing on two incidents – the shelling of a bus in Volnovakha and an assault on a neighborhood in Mariupol last week.
"And it's quite clear why – both cities are being controlled by Kiev's forces," Churkin said. A similar tragedy in Donetsk, when 13 people were killed in the shelling of a bus stop, was not followed by mourning marches in Kiev, nor was an urgent meeting of the Security Council called, the Russian envoy said.
"We always condemn all attacks on civilians. And we mourn all civilian victims – unlike Kiev, which declares mourning and commemorations for civilian victims while picking which civilian victims in which regions to mourn," Churkin said. "Are the people of the self-proclaimed Donetsk and Lugansk Republics some kind of second-class citizens?"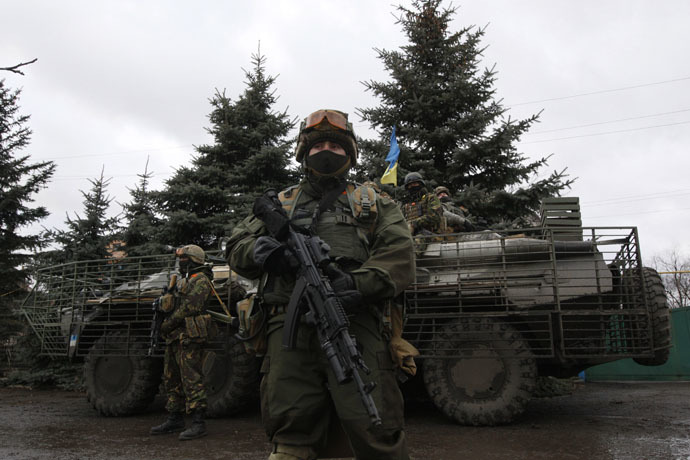 "It is impossible to ignore the fact that the tragedies of last few days are quite traditionally being used by Kiev to fan the flames of hysteria," Churkin said. The accusations against militias pop up instantaneously, giving an impression they are being "prepared in advance," he said, accusing Kiev of using any tragedy to call for more financial and military assistance from the US and its allies and to exert pressure on Russia.
"But as soon as the propaganda trick has come to an end, the interest in it falls very rapidly. After some time has passed, very often one finds that the information is very far from what was said initially," Churkin said.
READ MORE: Mariupol spotter 'confession' another fake by Kiev – Russian Defense Ministry
In light of this, Russia, according to Churkin, is urging an objective investigation into all of the January incidents in Volnovakha, Donetsk, and Mariupol, as well as earlier crimes – including the Maidan and Odessa tragedies.
Taking the floor at an emergency Security Council meeting, UN Under Secretary-General Jeffrey Feltman told the session that a rocket attack on the Ukrainian city of Mariupol that killed 30 people on Saturday is a violation of international humanitarian law.
"Mariupol lies outside of the immediate conflict zone. The conclusion can thus be drawn that the entity which fired these rockets knowingly targeted a civilian population," said Feltman, revealing the crater analysis by the Organization for Security and Co-operation in Europe.
"We must all send an unequivocal message: The perpetrators must be held accountable and brought to justice," he said.
The Ukrainian conflict began last April when Kiev launched a military operation in the southeastern Donetsk and Lugansk regions, after the regions refused to recognize the country's new coup-imposed authorities. The death toll in the Ukraine conflict has exceeded 5,000 people. Over 10,000 have been injured, according to UN estimates.
You can share this story on social media: