Russian student invents bracelet to tackle computer addiction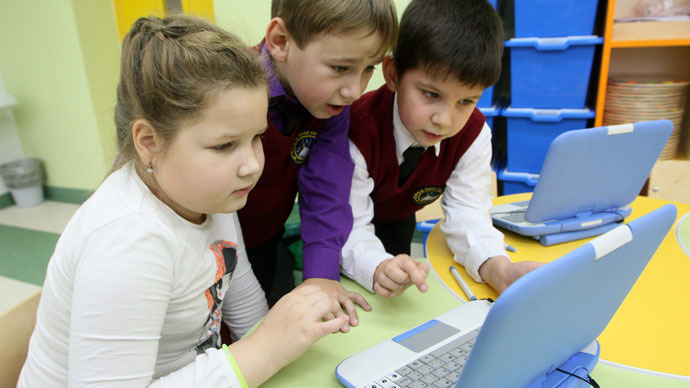 Russian students have invented a unique bracelet capable of preventing kids from spending too much time in front of a computer. Tracking children's biorhythms, it can even autonomously switch off computers, averting possible health-related consequences.
The bracelet is currently in the final stages of development at the Academic IT School of Perm State University, with a model ready for production expected by the end of year.
"The project is aimed at lowering the psychological pressure experienced by the personal computer users. It's especially important for children as we live in the 21st century when kids have unlimited access to computers, which don't always have a positive effect on them," Dmitry Zotin, the bracelet's inventor and an Academic IT School student, told RT.
It'll be "more like parental control," but it'll be the hardware and software, not parents, managing the time spent by the youngster in front of a PC, he explained.
Spending too much behind the computer can make it hard for children to sleep at night and increase risk of attention problems, anxiety, depression and even obesity, medics warn.
The bracelet will be tracking the child's cardiac rhythm and skin temperature, using Bluetooth to transfer this data to a program installed on the computer.
Based on the physiological data, the software will decide whether to change the computer's settings, adjust screen brightness, block certain parts of the operating system or even shut down the whole PC.
The program will also record all actions performed by the user on the computer, including mouse clicks, buttons pressed and others, to provide him with advice on how to use his time in front of the monitor more effectively.
It's going to be "an enforcement procedure" for the children, Zotin said, adding that the bracelet will turn the computer off automatically if the kid ignores the program's warnings that he or she spent too much time in social networks or playing.
As for adult users, the bracelet will inform them that they are tired or stressed and advise to change activity or take a break, he added.
Zotin says that in the future his invention may also be introduced in offices to monitor how effectively employees use their time behind the computer and to ensure they get enough rest from staring at the screen.
The bracelet is currently only compatible with desktop computers, with no plans yet to make a version for tablets and video game consoles.
You can share this story on social media: