'Monstrous democratic slap to EU': Le Pen hails Greek anti-austerity party victory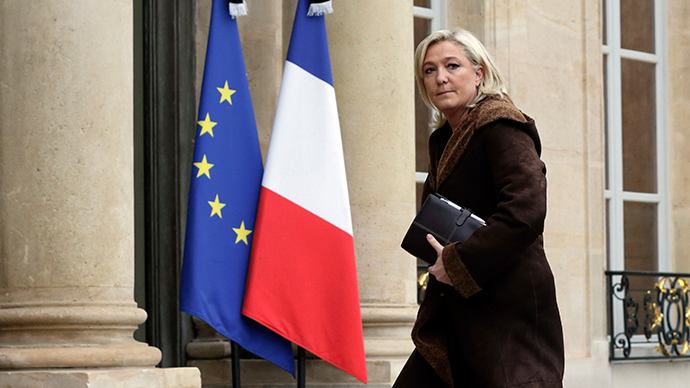 The victory of Greece's anti-austerity Syriza party is a monstrous democratic slap to the European Union, believes Marine Le Pen, leader of France's far-right National Front party, adding that for her this success means "the trial of the euro-austerity."
READ MORE: '5yrs of humiliation, suffering over': Anti-austerity party to form govt in Greece
"I welcome the monstrous Democratic slap the Greek people has given to the European Union," Le Pen told France's RTL radio.
According to Le Pen, Syriza's triumph is "the first result of the unprecedented suffering undergone by the Greek people under the influence of the EU in recent years."
"C'est l'ouverture du procès de l'eurostérité, l'autorité imposée pour sauver l'euro." @RTLFrance

— Marine Le Pen (@MLP_officiel) January 26, 2015
The Greek election debate is one of freedom, she believes.
"Do we want to be free? With the European Union, we are not… Neither our immigration policy, nor our monetary policy or agriculture."
Sunday's elections in Greece are "opening the trial of the 'euro-austerity'," according to Le Pen.
"When we try to avoid democracy, the boomerang always returns with increased speed."
READ MORE: Thousands rally for Greek anti-austerity party promising end to 'humiliation'
Le Pen earlier said that though her party "doesn't not agree with all of [Syriza's] program," France's National Front "will celebrate their victory."
"Je me réjouis de la gifle démocratique monstrueuse que le peuple grec vient d'administrer à l'Union européenne." @RTLFrance

— Marine Le Pen (@MLP_officiel) January 26, 2015
"There is a fracturing in Europe, which is seeing the people taking power against the totalitarianism of the European Union and their accomplices, the financial markets," she added.
Le Pen's father, Jean-Marie Le Pen, who led the National Front party from its foundation in 1972 until 2011, welcomed "the defeat of the European Union in Athens."
Syriza's win was welcomed by France's Socialist party, several MPs from which protested France's President Francois Hollande anti-austerity policies last year.
"The victory of a party on the left is always good news for the Socialist party in France," said First Secretary Jean-Christophe Cambadélis.
Jean-Luc Melenchon, France's most prominent far-left politician described Syriza's success as "pure happiness."
"This is a new page for Europe. Maybe we can take the opportunity to rebuild Europe, which has become the federal Europe of the liberals," Mélenchon told France's BFM TV.
READ MORE: Grexit? Germany plans Greece's possible exit from eurozone – media
On Sunday, Syriza won 149 seats in the 300-seat Greek parliamentary election. Party leader Alexis Tsipras said Greece leaves behind five years of humiliation and suffering, fear and authoritarianism while addressing thousands of cheering supporters at a rally in Athens.
Tsipras is moving to build a stable government and plans to get rid of Athens' three main creditors – the European Union, the International Monetary Fund and the European Central Bank.
You can share this story on social media: