Pakistan plunges into darkness as attack leaves 140mn without power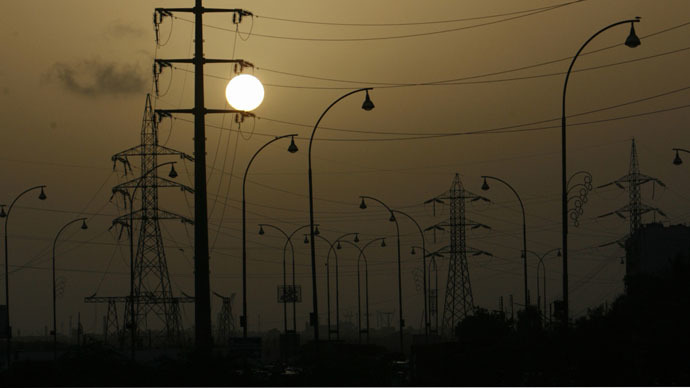 Over 140 million Pakistanis were left without power after militants attacked the national grid with blasts specifically targeting power pylons. Some are still waiting for power to return.
Massive power outage plunges Pakistan into darkness: http://t.co/znTOTWm1ahpic.twitter.com/t7uWxsAdAG

— The Nation (@The_Nation) January 25, 2015
Up to 80 percent of the population reported losing electricity after attacks on a transmission tower caused nationwide blackouts.
Two nuclear plants were still offline Sunday after the outages and there were some problems reported at the country's main international airport in Lahore.
Outage Leaves Most of Pakistan Without Power pic.twitter.com/cQbgQiZrl7

— Images (@vctv_images) January 25, 2015
Islamabad has been working on restoring the power. Pakistan's Ministry of Water and Power said via Twitter: "On the Prime Minister's directive, we are not to sleep until this problem is resolved."
However, a "backward surge" was making the reparations very difficult, according to a ministry spokesperson Zafaryab Khan. "The blowing up of two power pylons in Naseerabad last night created a backward surge which affected the system. It was an act of sabotage."
The sun sets during a power outage in Karachi/Athar Hussain pic.twitter.com/nuRteq2y7b

— S Athar Hussain (@SAtharHussain) May 30, 2014
On Sunday, a spokesman for the national power company said that "electricity has been restored in all parts of the country," AFP reported.
"Some 6,000 megawatts of electricity has been added to the national system and within a couple of hours distribution will be normal," he said.
The massive blackout shortly followed Pakistan's gasoline shortage crisis, with the nation's Prime Minister, Nawaz Sharif, being forced to cancel his trip to the World Economic Forum in Davos to deal with the problem. Plunging oil prices are leaving national utility companies without the necessary profits to pay for maintenance and upgrades.
READ MORE: Total darkness: Country-wide blackout in Bangladesh as power grid collapses (PHOTOS)
You can share this story on social media: