EU's bailout program for Greece 'dead' – Syriza economist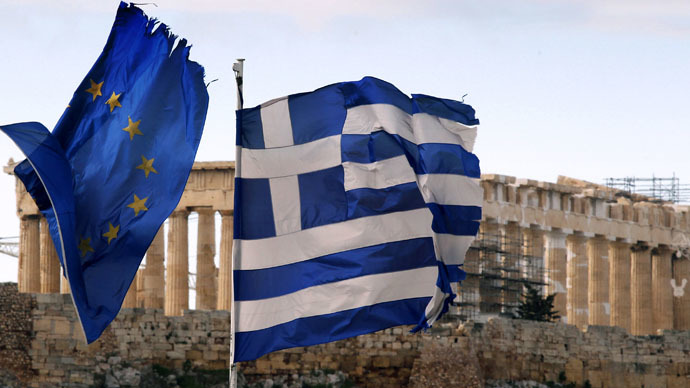 The bailout program, which the outgoing Greek government signed with the EU, is dead and will be renegotiated, Yiannis Milios, chief economy policy maker at the leftist anti-austerity party Syriza said after it won the country's parliamentary election.
READ MORE: Greece's anti-austerity Syriza party officially wins parliamentary elections
European Union Finance Ministers are scheduled to meet in Davos on Monday, but Milios said that Greece's current finance minister, Gikas Hardouvelis, will attend the gathering only to "close pending cases of technical matters."

"This program, which was agreed by Mr. Hardouvelis as representative of Mr. Samaras, is now dead," he explained.

Syriza won over 36 percent of the vote on Sunday, forcing New Democracy – the party of Greek prime minister – Antonis Samaras, to settle for second with 28 percent.

Celebrating the victory, the party's leader Alexis Tsipras announced to the cheering crowd that the era of 'Troika' debt inspectors is "over" for Greece.
"This is a historic victory of the Greek people. A new page has turned. It is a historic moment for the entire Europe. We turn a new page in our country. The Greek people take their future into their own hands," Milios was also cited by ANA-MPA news agency.

The majority of Greek voters entered the election angry at the Samaras's government for agreeing to the terms of 240 billion euro EU bailout, which included the severe cuts and tax hikes.

Syriza blamed austerity for deepening Greek recession, which pushed one third of the country's population into poverty.

Before the vote, the leftist party's leader, Alexis Tsipras, said that the terms of the bailout program must be renegotiated to give Greek economy more breathing space.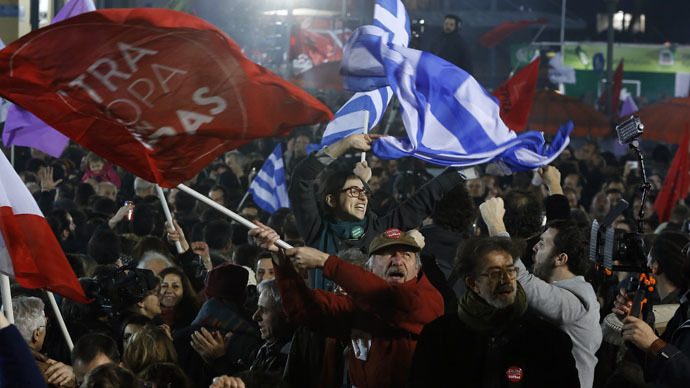 According to Milios, Syriza will form "the government of national salvation, is the government that will promote, defend and consolidate the interests of social majority but, at the same time, it is not just a message."

The Greek leftist have become the first anti-austerity party to form the government in Europe, with Syriza economist saying that "it is the beginning of a major change for the entire" continent.

"Europe cannot continue with the deflation, recession, the rising unemployment and excessive debt. Greece leads the way, our country, our people are the pioneers of a huge change. We are all very emotional and happy," he added.
You can share this story on social media: