Sweden suspects up to 4 subs violated its waters – report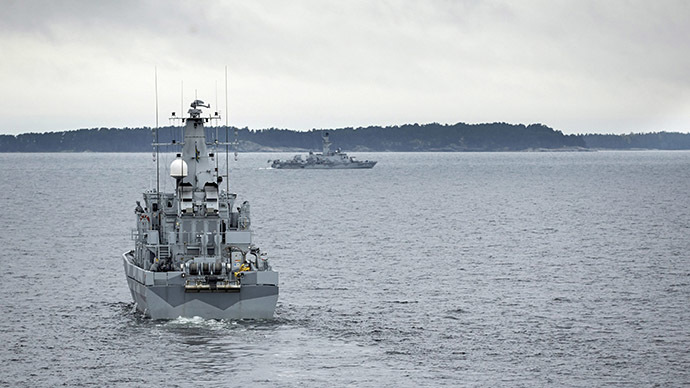 The Swedish military now believes that not one, but up to four foreign submarines were operating in the Stockholm Archipelago in mid-October last year, a source within the country's armed forces said.
An unidentified sub was allegedly spotted in Swedish waters on several occasions, October 17-19, 2014.
This led to a two-week submarine hunt, the Swedish military's largest operation since the Cold War, but it turned out fruitless, despite the media hype.
Earlier this month, the Swedish military said it spotted another foreign sub in its territorial waters on October 31 and organized a search operation, which also proved futile.
The Swedish media alleged the operation in mid-October could've been a hunt for a "damaged Russian submarine," but Moscow has repeatedly denied the claims.
READ MORE: Foreign sub hunt: Sweden confirms second secret operation in Stockholm archipelago
But now after analyzing the evidence, the armed forces concluded that three or even four vessels violated Sweden's territorial waters in October 2014, a "central source" told the local Dagens Industri newspaper.
Rear Admiral Anders Grenstad, deputy chief of operations at the Swedish Armed Forces, confirmed to the paper that the military "suspects there may be several vessels," but stressed "he doesn't know how many there were."
In his other interview with Tidningarnas Telegrambyra news agency, Grenstad said the official investigation of the incident won't be completed until March, with the military yet to decide whether to go public with their findings.
Chairman of Sweden's parliamentary Defense Committee, Allan Widman, described the report in Dagens Industri as "very worrying."
"Three to four sounds like a comprehensive foreign underwater operation, if the information is correct. It seems this business is more extensive than what I thought based on the information that was given at the press conference [by the Swedish military on November 14]," he said.
With the October hunt yielding no result, Widman had to acknowledge that Sweden's capability to detect foreign submarines has deteriorated drastically compared to the Cold War times of the 1980s and 1990s.
The Defense Committee chairman said the country urgently needed to boost its fleet of helicopters with anti-submarine capabilities.
He said NATO's NHIndustries NH90 helicopter project has been "a nightmare for Sweden" as it's "gone on for thirteen years without reaching any of its goals" and is only expected to have anti-submarine capabilities by 2020.
"The fastest way now I believe is not to continue the project, but to make a direct purchase of a maritime operations helicopter from the US," Widman stressed.
You can share this story on social media: