Boko Haram attack key Nigerian city hours ahead of John Kerry arrival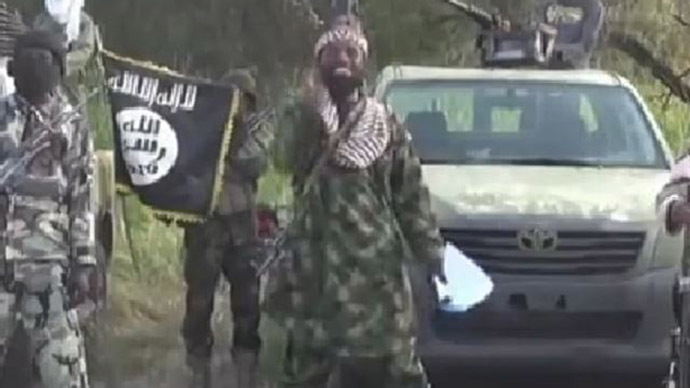 Boko Haram militants have launched an assault on the capital of the Borno state, Maiduguri, on Sunday and engaged in fierce fighting with the country's military. The offensive started just hours before US Secretary of State John Kerry was due to arrive.
A fierce battle raged in the city of Maiduguri, capital of restive Borno State, according to the military and local residents. "Troops are repelling a simultaneous attack on Monguno and Maiduguri by terrorists," a tweet from Nigeria's defense headquarters stated. Local residents say the fighting between government forces and the militant group is continuing, AFP reports.
#COINUpdate: Curfew is imposed on #MAIDUGURI with immediate effect till further notice as pursuit of retreating terrorists begin.

— DEFENCE HQ NIGERIA (@DefenceInfoNG) January 25, 2015
A security source told the Nigerian newspaper the Premium Times: "We had a sleepless night till this morning because these elements tried to enter Maiduguri from Dalwa and Limanti axis, but our soldiers were able to repel them. They retreated and took another flank around Njimtilo this morning and our troops have been engaging them there too."
Njimtilo is about 20 kilometers away from Maiduguri.
READ MORE: Satellite images reveal 'horrific' scale of Boko Haram attack in Nigeria
Boko Haram began attacking Maiduguri on Sunday, with locals saying they could hear shelling and that military helicopters were circling the city. Activity in the city has ground to a halt, with shops and businesses closed, while all roads have been shut down, according to Reuters. A curfew has also been imposed.
Dozens of people were killed in the attack in the morning, AP reports. The roads leading to the city are blocked.
"We believe hundreds of thousands of civilians are now at grave risk," Amnesty International said.
FLASH: Troops are repelling a simultaneous attack on #Monguno and #Maiduguri by Terrorists.Coordinated Air and Land OPs being conducted #Now

— DEFENCE HQ NIGERIA (@DefenceInfoNG) 25 января 2015
In the evening, a fresh battle started between militants and government forces near Maiduguri International Airport.
"I can hear sporadic gun shots and bomb explosions, I am sure the boys are back to retaliate for what was done to them this morning," Bello Muhammad, a local, told Reuters.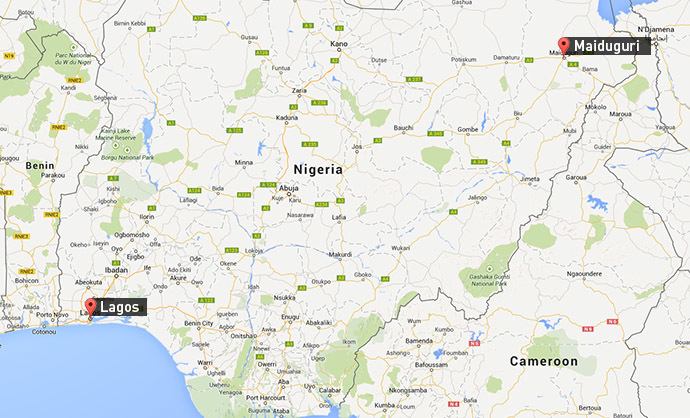 Kerry is the first US diplomat to visit Nigeria since 2012. However, his schedule sees him traveling to the southern city of Lagos, over 1,500 kilometers away from Maiduguri.
READ MORE: Another 'Islamic State'? Boko Haram's captured area about size of Slovakia
The vast area of Maiduguri is seen as a key strategic goal for Boko Haram, who want to carve out an Islamist state in northern Nigeria. The terrorist organization last tried to take the city in December 2013. They managed to seize a local air force base and clashed with local troops.
Nigerian President Goodluck Jonathan recently visited Maiduguri as part of his election campaign, with the country set to go to the polls in February. His main rival in his bid to seek re-election, Muhammadu Buhari, is due to arrive in the city on Monday.
You can share this story on social media: