As big as 5 football fields: Massive asteroid to be visible from Earth Monday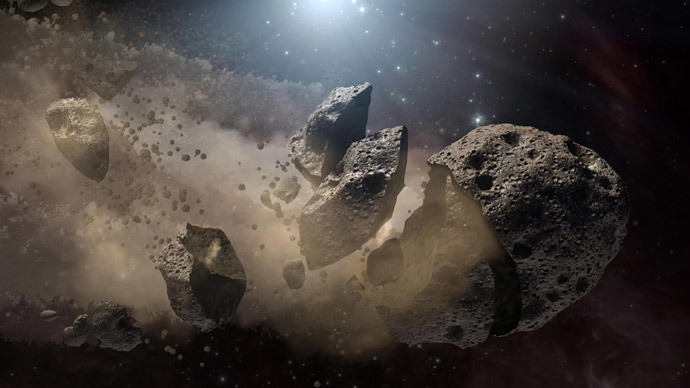 An asteroid the size of five football fields is approaching Earth and is expected to pass by on Monday. It will be visible through strong binoculars – definitely worth a look. The next time such an asteroid comes this close again will be in 2027.
At the closest point to the Earth, asteroid 2004 BL86 will be at a distance of 1.2 million kilometers which – approximately three times the distance from the Earth to the moon. Estimated to be 0.5 km in diameter, it is classified by scientists as potentially dangerous.
A space object is considered "potentially dangerous" if it crosses the Earth's orbit at a distance of less than 0.05 AU (approximately 19.5 distances from the Earth to the Moon), and if its diameter exceeds 100-150 meters. Objects of this size are large enough to cause unprecedented destruction, or generate a tsunami in case they fall into the ocean.
READ MORE:Dinosaurs wiped out by 'nuclear winter' effect, not firestorm after asteroid – study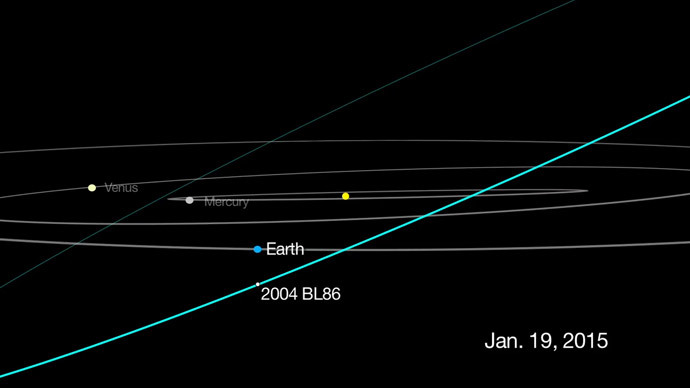 However, according to astronomers, there is no threat of the object colliding with our planet this time.
"While it poses no threat to Earth for the foreseeable future, it's a relatively close approach by a relatively large asteroid, so it provides us a unique opportunity to observe and learn more," Don Yeomans from NASA's Near Earth Object Program at the Jet Propulsion Laboratory said in a statement.
READ MORE: Asteroids brought water to Earth - Rosetta space probe finds
It is very rare that such a huge space body comes this close to Earth. The next time an asteroid might be passing by will be in 2027, when 1999 AN10 flies past Earth. As for 2004 BL86 itself, it can be monitored from Earth for another 200 years.
Astronomers strongly recommend trying to catch this unique opportunity to spot an asteroid in the sky. It will be possible on January 26 between 11:07 pm and 11:52 pm ET (04:07 and 04:52 GMT).
It will be best seen in the Americas, Europe, and Africa. Amateur astronomers will be able to observe it with small telescopes and even strong binoculars.
"I may grab my favorite binoculars and give it a shot myself," Yeomans said in the statement. "Asteroids are something special. Not only did asteroids provide Earth with the building blocks of life and much of its water, but in the future, they will become valuable resources for mineral ores and other vital natural resources."
READ MORE: Asteroids brought water to Earth - Rosetta space probe finds
Numerous observatories all over the world will use this opportunity to learn something new about 2004 BL86. NASA's Deep Space Network antenna at Goldstone, California, and the Arecibo Observatory in Puerto Rico will try to procure scientific data and radar-generated images of the asteroid while it is in its closest position to the Earth.

"When we get our radar data back the day after the flyby, we will have the first detailed images," radar astronomer Lance Benne said. "At present, we know almost nothing about the asteroid, so there are bound to be surprises."

2004 BL86 was discovered on January 30, 2004, by the Lincoln Near-Earth Asteroid Research (LINEAR), responsible for the majority of asteroid discoveries from 1998 until 2005, when it was overtaken by the Catalina Sky Survey (CSS). The asteroid orbits the Sun every 1.84 years.
You can share this story on social media: